Content:
Home
 >  How to Style a Fairy Tale Party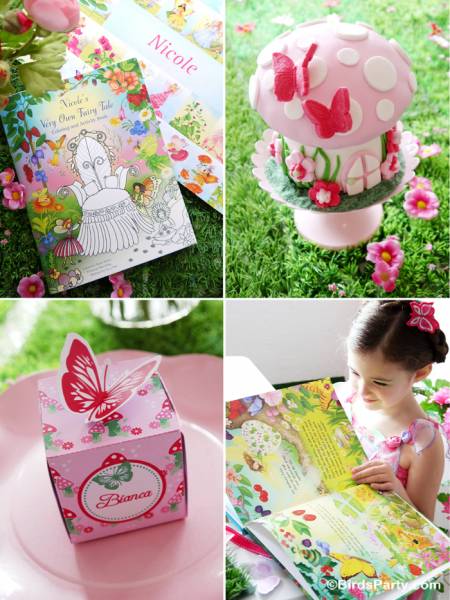 How to Style a Fairy Tale Party
Party Planning & Inspiration
Creating a beautiful party, whatever the theme, requires careful planning and resourceful creativity. Even if pushed for time, research is key to helping you put together a harmonious look, and a little creative flair can help you transform any celebration into an enchanting and unforgettable event.

Our main inspiration for this Fairy Tale Party were the "Pink Fairy" Party Printables by Bird's Party - With hues of pink, butterflies, toadstools and lots of garden influence, it provides the perfect palette for a spring or summer party, and is versatile enough and can be tailored to any age group.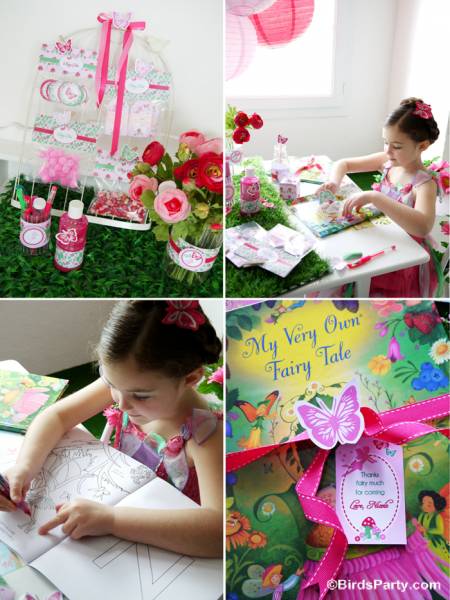 Party Styling and Decor
For my daughter's kindergarten age group, the emphasis was on creating a simple but nonetheless magical atmosphere - The printables and party stationery play a major role in helping to create a very seasonal and enchanted party scene, complete with butterflies and an indoor garden.

Disposable party-ware can look super cute and unique if embellished for the occasion with inexpensive party printables, which includes lots of fun details and designs.

The eye-catching display of paper lanterns hung above the sitting table acts both as decor, and as photo backdrop. Little grass mats from craft stores are used as placemats and a bouquet of peonies is decorated with paper printable butterflies from Bird's Party.

The Birthday Cake
A beautiful homemade cake in the shape of a toadstool is the crowning glory of the table and a centerpiece in itself - It will surely wow your little fairies and delight the taste buds! All washed down with pink lemonade of course.

The top part of the cake was baked in a bowl to get the domed shape. Then covered in pink sugar paste fondant and placed onto the bottom part of the cake (covered in white fondant). The decoration is again simple but effective, and the use of fondant can help you achieve stunning results without much effort or a degree in 'baking'. Use cookie cutters, piping tips and the tip of your knife to cut decorations (flowers, glass, circles) out of rolled fondant, and then simply add the decor to the cake using a little clean paintbrush and water to adhere the embellishments on – the main thing is to have fun and let your imagination run with it!

Party Activities & Fun
A "Fairy Fun" crafty table is a quick and easy party activity that will get your little guests excited and engaged, without spending a lot! The craft station is beautifully decorated to match the party theme, again making the use of those party printables. The usual craft supplies of crayons, colored paper, glue, lots of sparkly "fairy dust" glitter, beads, ribbon spools, stickers made from the printables again, and assorted embellishments are all part of craft table.

The personalized coloring books from I See Me! are a fabulous addition to the craft table!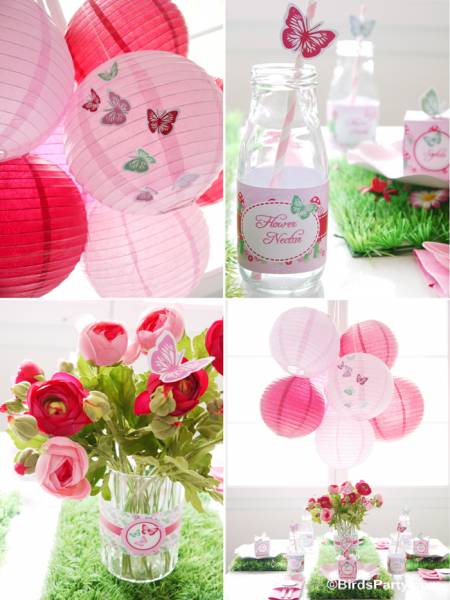 Party Favors & Gifts
A great and meaningful party favor does not have to be complicated, not cost a fortune! The fabulous fairy personalized placemats and personalized coloring book from I See Me! provide the prefect going away gift for any little fairy. Plus, they make great placemats and accessories for the party and craft tables too, and will last a lot longer than any trinket!

"Storytelling Time" at the end of the party offer a unique and entertaining way to wind down the party and get the little guests seated and rested. A personalized book from I See Me such as the title My Very Own Fairy Tale is the ideal book for such an occasion, and will be treasured by the birthday girl for years to come!