Content:
Home
 >  Many Ways to Say "I Love You"
1/20/13- Many Ways to Say "I Love You"
There are many ways to say "I love you" to the children and people in your life. From actually forming the words with your mouth, to embracing in a physical hug, with gifts, and simply through your everyday actions.

One idea for at home is a personalized storybook such as I See Me!'s, Who Loves Me?. It's a great story to read to your children on Valentine's Day at bedtime. Kids will delight in seeing their name in the book, accompanied by the people that surround them in their life.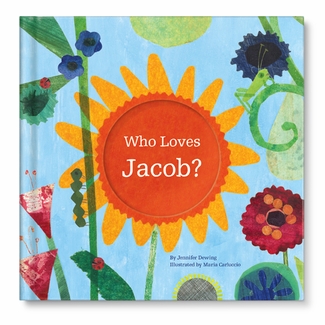 In my foodie world, when we celebrate the Feast of St. Valentine next month, another thing I love to do is to tuck a little something sweet into the lunchboxes of those small, much loved little ones. My usual lunchbox treats are small, two- and three-bite wonders, just enough to give them a sweet ending to their meal. They come sporadically, reserved for special occasions, and when I want to let them know I'm thinking of them. I tuck them inside alongside the handwritten note that contains a joke or simply an "I love you" to remind them during their day at school.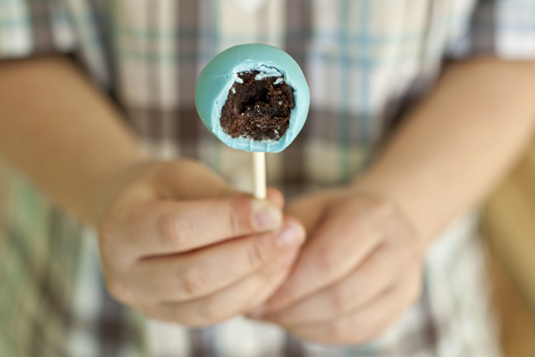 Here is one of my favorite recipes that you can use this year whether it's in your child's lunchbox or a special treat after school on Valentine's Day. I hope you enjoy it!

Brownie Balls

1 8″ pan of your favorite brownies
15-20 4″ sticks (available at craft stores like Michael's and baking supply stores)
2 cups candy coating melting disks in color of your choice or chocolate
2 tablespoons Valentine's Day sprinkles

Remove outer crust of the brownies and set aside. This can be eaten at any time. Place the moist inner part of the brownie in a medium-sized bowl. Use a fork to mash it up into crumbles. Grab a small amount and roll into quarter-sized balls. Place a stick in each ball and press around base to hold steady. Place on lined cookie sheet and freeze until firm.

Over a double boiler, melt melting disks or chocolate. You can use a small amount of vegetable oil or shortening to thin the disks for easier coverage, if desired. Dip frozen brownie balls into the melted chocolate, evenly coating. Spin lightly to remove drips and then sprinkle with decorations of your choice. Stick the sticks into a piece of foam to hold in place while you wait for them to set. When set, you can serve at will. Makes 15-20 brownie balls.

Note: One way to make this treat twice the fun is to use a cookie cutter to cut out small heart-shaped brownies. Then you can frost and decorate those with pink frosting and sprinkles, and the leftover edges can be rolled into brownie balls and dipped. It's a fun way to use up the entire pan of brownies in a Valentine's Day way.

Shaina Olmanson is the cook, freelance writer, and photographer behind Food For My Family, which was named one of the top ten Top 100 Mom Food Blogs by Babble.com in 2010, 2011, and 2012. She is the author of Desserts in Jars: 50 Sweet Treats that Shine, has served as the food editor for LifetimeMoms and daily contributor to Babble's Family Kitchen, and contributes regularly to FoodYourWay.net and SimpleBites.net. She lives in Minneapolis, MN with her husband and their four kids.