7 Mother's Day Ideas with Kids
Treat yourself and spend quality time with your kids this Mother's Day. These Mother's Day ideas offer a variety of fun ways to spend Mother's Day with kids. Experience gifts for mom create meaningful moments and memories that last a lifetime. Along with Mother's Day presents, try these Mother's Day gift ideas that provide special experiences.
Visit an ice cream shop for a sweet treat this Mother's Day.
Parents and kids love ice cream! Visit your local ice cream shop and enjoy a delicious treat. This Mother's Day gift allows moms to indulge in dessert and have fun with their kids. But don't just stop at one ice cream cone. Try all the flavors and mix up flavors to taste-test weird concoctions.
Pamper yourself with a manicure and pedicure.
Have a mani-pedi spa day with your kids! Both you and your children can have a relaxing foot massage and get your nails and toenails painted. This Mother's Day experience gift offers a special pampering day for mom and introduces kids to a new activity. Turn this spa day into a yearly ritual—you may still be having mani-pedis together when your kids are in college!—and create lasting memories.
See a movie at the movie theater with popcorn, extra butter!
Put up your tired mom feet and have a relaxing movie night with popcorn! This Mother's Day present requires little planning and expenses but offers quality time to entertain yourself and your kids. Try locating a movie theater with cushy recliner seats and bring blankets so you can get warm and cozy for the movie.
Take a boat tour on the lake or charter a boat.
Boat tours offer spectacular lake views and relaxing rides on the water. If you charter a boat, kids can go tubing and swimming. Enjoy the warm weather and majestic scenery as you cruise around. Many boat tours also offer a delicious gourmet dinner. Try a sunset dinner cruise and take in breathtaking views of the sun setting against the water.
Make her brunch in bed and have a pajama day.
Sometimes the best Mother's Day gift is to have a lazy day and do practically nothing at all! Dad and the kids can make mom brunch in bed, including pancakes, eggs, bacon, and mimosas. Stay in your pajamas all day and do whatever makes you happiest—have a pajama dance party, watch movies in bed, take an extra nap (never underestimate the gift of a power nap for tired moms), and take silly pajamas photos with your kids.
Picnic in the park with gourmet finger foods.
Have a laid-back Mother's Day picnic in the park and dine on scrumptious snacks. Pick a park with a playground, so kids can play while you relax outside. Bring finger foods such as mini chicken salad sandwiches, chips and salsa, shrimp and antipasto kabobs, lunch meat pinwheels, and ahi tuna lettuce cups. While the kids play, enjoy a glass of rosé or champagne and celebrate Mother's Day in style.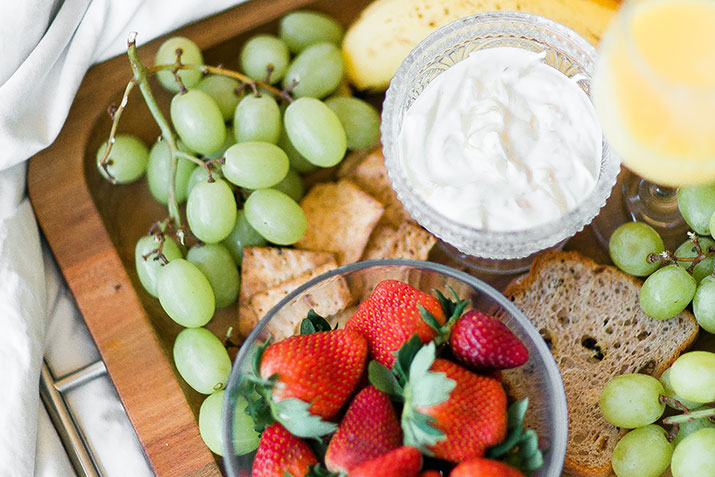 This Mother's Day activity is especially ideal for new moms and infants. New moms can enjoy the fresh air with their baby, spend quality time together, and relax. Along with the picnic, surprise her with some personalized baby books she can read to her baby at the park and take lots of photos to commemorate baby's first storytime!
Enjoy a staycation at a hotel and spend the night.
A staycation at a hotel can be more fun than an out-of-state weekend vacation for Mother's Day. You can pack less, avoid the stress of traveling, and have as much fun with a hotel getaway! Kids will love the adventure of staying somewhere new. Most hotels also have an indoor or outdoor pool—perfect fun for kids of all ages. Some hotels are connected to a mall, offering a fun shopping activity for the family during the day. Find a hotel that also has a spa, so mom can experience a relaxing massage while dad watches the kids. At dusk, indulge in room service or enjoy fine dining at the hotel's restaurant for dinner. A hotel staycation is an exciting experience gift for Mother's Day that offers relaxation, quality family time, and a fun adventure for the kids.