5 Graduation Crafts for Kids
Celebrate your child's preschool or elementary school graduation with these graduation crafts for kids! These children's craft ideas are a perfect way to mark this important childhood milestone and spend quality time together once school is out. Graduation crafts help kids get excited about their accomplishments and look forward to another school year. Help kids dream big at the end of the school year and remember all your hard work with pride!
Graduation Crafts for Kids
Paper Graduation Cap
Kids will graduate in style by making their own paper graduation cap! This preschool graduation craft is a perfect way to celebrate the big day. You'll need:
Construction paper in black
Scissors
Glue or tape
String
Cut a piece of black construction paper into a square. Cut another piece into a wide strip to create the brim of your hat. Tape or glue the strip into a circle. Attach the square at an angle onto the top of the brim, using tape or glue. (Tip: Tape the square onto the brim from the inside, so the tape doesn't show.) Glue a piece of string from the center of your hat to one of the corners. Let the rest of the string dangle off the side. Then tie more string onto the dangling piece to create a tassel. Kids can wear their graduation cap to school and pretend play the graduation ceremony at home!
DIY a Graduation Certificate
Remember this special day by creating your own graduation certificate—a keepsake parents can look at and reminisce about years later. This graduation craft for kids captures memories about the day and helps your child think about all the fun things he or she has learned. You'll need:
White paper
Markers
Paint
Parents can create the template for this graduation certificate. Add fields to the certificate such as: Name, Age, Grade, Teacher, Favorite School Subject, Favorite Color, Favorite Lunch Food, Favorite Book, What I Like to Do After School, etc. Have kids stamp their hand in paint and add a handprint to the right-hand side of the certificate. Carry on the tradition of making a graduation certificate every year, to capture your child's evolving preferences and improvements in learning.
Kid's Graduation Time Capsule
This fun family activity will be a treasured keepsake for kids when they open it in the future! A time capsule is a container filled with present-day objects and memories that is hidden or buried and then opened in the future. A graduation time capsule will be filled with memories from the past year, so kids can remember their graduation and read wishes or messages from their past self. To create this time capsule of special memories you'll need:
Mason jar
Paper
Markers
Photos
Toys
Special items that your child loved from the past year
School report cards, crafts, and other items from the school year
Shovel or garden trowel
Add your special items into a large mason jar. Include a favorite toy, photos from the past year, a school report card, crafts your child completed in the classroom, personalized coloring book pages, and other memorable items. On pieces of paper, write down your child's favorites such as favorite color, movie, book, sport, school subject, best friend, etc. You can also write questions to ask your child in the future, with these same prompts: What is your favorite color? What is your favorite movie? etc. Label a piece of paper with your child's name and completed grade, and tape it to the inside of the jar. Close up the jar and bury it in the backyard. For a less messy project, hide the time capsule in an attic, shed, or basement closet.
Take out your time capsule in a year, on your child's next graduation day, and have fun comparing the present year to the past. Ask your child the questions from the jar and see how much he or she has changed!
Emoji Memory Masks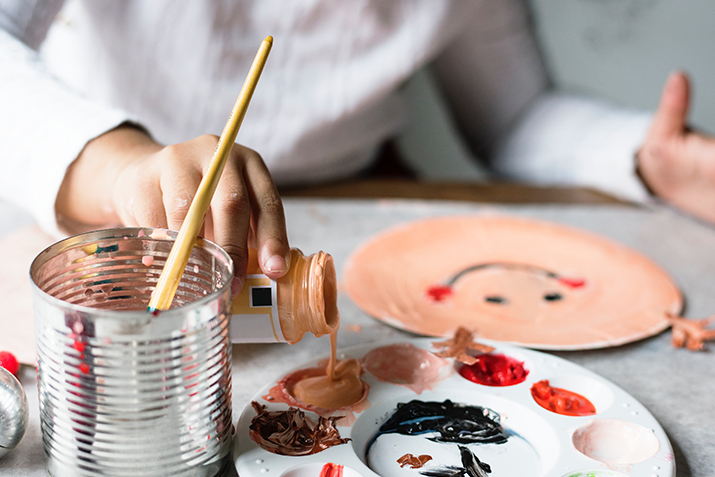 Help your kids remember the highs and lows of the past year on graduation day and teach them about different emotions and expressions at the same time! This is a perfect preschool graduation craft. In the present year, young kids are now using phones and tablets to play games and learn. Since they are familiar with emojis, use it to your advantage and turn this graduation craft into a learning tool! You'll need:
Construction paper in yellow
Scissors
Markers
Glue
Craft sticks
Cut the yellow paper into large circles. Make about 5-7 emoji faces. Draw expressions on the faces with marker, copying the emoji expressions from your phone. Try varying expressions such as happy, sad, angry, laughing, etc. Glue the faces onto sticks, so kids can wear them as fun emoji masks!
For each face, write a corresponding memory. For example, for the happy emoji, hold up the happy face and ask your child: What made you really happy this year? or What made you really happy at school? Write down their answer on the other side of the face. Try to test your child's knowledge of emotions by holding up the masks and asking what each emoji expression means first. As kids get more tech savvy, this graduation craft is an ideal way to appeal to their interests and further learning.
Dream Board for Kids
Have your child create a dream board for the coming year by cutting out and gluing pictures onto a canvas. Frame the dream board and hang it on their wall as a reminder to dream big and try new things! Ask your child: What do you wish for in the new year? What do you want to do? Where do you want to go? Kids can cut out pictures to represent their wishes and dreams. Surprise your child with a graduation present to match their dream board. A gift such as the personalized storybook I Wish You More is an inspiring graduation gift for kids that wishes your child the best in life.
These graduation crafts for kids are easy and fun ways to celebrate such a momentous occasion! Try these craft ideas for graduation day or try a few for a fun summer activity.
Resources:
https://www.makeandtakes.com/two-fun-ways-to-celebrate-graduation-day