I See Me's Christmas Gift Guide for Baby
Celebrate a baby's first Christmas with keepsake gifts from I See Me's Christmas gift guide for baby! Christmas is coming up fast! It can be difficult to find creative and unique Christmas gifts for little ones. These Christmas gift ideas for babies and newborns will bring overwhelming love and joy! Whether you need a gift for your own child or a baby gift for someone else, these holiday presents are sure to wow.
I See Me's Christmas Gift Guide for Baby
 Personalized Christmas Storybooks for Baby
Celebrate a baby's 1st Christmas with personalized storybooks! A custom book that features the baby's name throughout the story and illustrations is a special keepsake that is sure to be treasured. Wish a baby sweet Christmas dreams with a whimsical storybook such as A Christmas Dream for Me. This holiday lullaby will soothe little ones at bedtime every Christmas.  For year-round reading, give baby a book full of sweet and simple blessings (including God's blessing) with the personalized book My Little Book of Blessings. Parents can instill good values and lessons in their children with blessings about loving one another, the "Golden Rule," friendship, and more! Personalized books are sweet newborn Christmas presents that baby and parent will cherish.
Christmas Onesie with Matching Family Pajamas
Send baby off to sleep with a cozy and cuddly Christmas onesie! Get the whole family pajamas to match—you'll have the perfect outfits to take adorable family Christmas photos! Add a personal touch and have the onesie personalized with the child's name in embroidery.
Photo-Personalized Ornaments
Remember a baby's first Christmas milestone with a photo-personalized Christmas ornament! Featuring the child's name and photo, personalized ornaments preserve favorite baby photos. Decorate the tree with a baby's 1st Christmas ornament and celebrate a year of beautiful memories with your bundle of joy!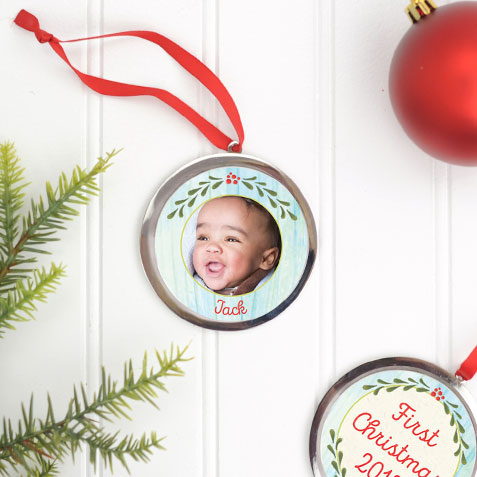 No Sew Christmas Baby Blanket
Keep baby warm all winter with a baby blanket that's easy to make! No sewing required. Homemade gifts are Christmas presents from the heart. Parents will treasure this baby blanket for years to come. To make your own blanket, you'll need:
1 yard of solid-colored anti-pill fleece fabric
1 yard of Christmas-themed fleece fabric
Blanket stuffing
Fabric scissors
Ruler
4×4" cardboard square
Lay the solid-colored fleece on the ground. Lay the blanket stuffing and Christmas fleece on top of the first layer. Smooth the fabric and match up the corners. Fold the blanket in half. Trim any edges that didn't line up perfectly. Then cut a 4-inch square from the two corners where the ends meet.  Use your cardboard template for accuracy. Unfold all the layers. Cut 4-inch deep and 1-inch wide fringes down all four sides. Tie double knots using two pieces of fringe fabric. Double knot all the fringes into pairs. You'll have a professional-looking, DIY Christmas blanket for baby!
Baby's 1st Christmas Bear
Every child remembers their first plush bear toy! A soft, plush bear is perfect for little hands to cuddle and squeeze. Mark the occasion with a keepsake plush that children will treasure, even as they become adults. You can give a personalized bear, embroidered with "baby's first Christmas" on the chest or hang a custom sign around the bear with ribbon.
Christmas Teething Toy
Give baby a deliciously soft treat to chew on at the holidays. A Christmas-themed teething toy helps baby and parent—plus it's a fun toy for the season! This is also an extremely affordable Christmas baby gift, for those on a tighter budget.
Personalized Baby Cross
Perfect for a religious family, a personalized prayer cross is a thoughtful Christmas gift. Customize the cross with a bedtime prayer that the child can recite with family as he or she grows older. This precious sentiment helps parents remember their baby's first Christmas!
Christmas-Themed Farmhouse Name Sign
Farmhouse décor is trending this holiday season! Add some rustic charm to a baby's room with a custom name sign. The best part? You can make this yourself. To make your own custom farmhouse wood sign, you'll need:
1 block of wood
Thick printer paper (or craft paper)
Paint
Painter's tape
Paint brush
X-Acto Knife
Print to size the baby's name on printer paper or thicker craft paper. Then trace the letters with your X-Acto knife, creating a stencil. Secure the stencil to the wood board using painter's tape. Dab paint over the words until covered. Remove the stencil while it's still wet. Clean up any messy edges using a paper towel and water. But remember: any imperfections are okay because this is a rustic sign! Let the sign completely dry. Use Christmas-themed paint colors to make this a festive name sign for the holidays. This Christmas farmhouse sign is perfect for a baby's room.
A Christmas Wish Advent Calendar
Send warm wishes to baby with a Christmas advent calendar. Have family members and friends write sweet notes on pieces of paper—wishes for the baby at Christmas. Then fold the notes and put one in each drawer of the advent calendar. When the child is older, he or she can open the notes and read all of the sweet Christmas messages! Parents can save the notes and remember baby's 1st Christmas always!
12 Days of Christmas Garland
DIY a Christmas garland for baby with 12 clothespins. Attach small stocking stuffer Christmas gifts to each clothespin, such as baby socks, booties, a knit hat, and so on. Once all the gifts are used, parents can still re-use the garland to hold other items such as baby artwork, photos, and more! This Christmas present for baby has many different uses—a present, storage, and nursery décor!
Resources:
https://www.hallmarkchannel.com/home-and-family/how-to/no-sew-baby-blankets
https://www.youtube.com/watch?v=xPzyXeA6ELk