Home
 >  Customer Testimonials for
My Very Own Fairy Tale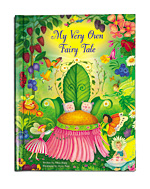 Our books have become popular gifts among celebrities, including Courteney Cox, who is a big fan! We appreciate all of our customers, and we love to hear your feedback.

Order the My Very Own Fairy Tale book
"I purchased the book as a Christmas gift for my granddaughter after reading an article about the author in
Good Housekeeping
magazine. I was extremely pleased with every aspect of the presentation - the quality of the artwork, the binding and the prose was beyond my expectations. I was so impressed I called their customer service just to congratulate them on such an excellent product."
Denise L, Ridgefield, CT
"I just received the (2)
My Very Own Fairy Tale
and (1)
My Very Own Name
books that I ordered. I was more than pleased. These are beautiful keepsake books that will be treasured for years to come. I plan to order more books soon, one for each of my grandchildren. I absolutely love these books!"
Shirley P., Port St. Lucie, FL
"I just saw the book that I ordered for my granddaughter. It's GORGEOUS. What a super delightful job you have done. The story and illustrations are beautiful and I'm thrilled with the book, as is my daughter, who will keep it forever."
Pat S.,Oxford, England
"These are the most beautiful children's books I've ever seen. The books give a child a sense of wonder that there could be a book all about them. They are also great teaching tools. They are beautifully made and a fantastic lifetime keepsake. I just ordered the new
My Very Own Fairy Tale
book and it is just as terrific as the original
My Very Own Name
book. Worth every penny!"
Susan, Fox Lake, IL
"We celebrated our granddaughter's 4th birthday and were thrilled that her
My Very Own Fairy Tale
book arrived yesterday in time to take to the party! We hadn't expected it for at least another week. My granddaughter insisted that I read it to her immediatey, she was enraptured throughout the story. Her mom said she actually saw tears well up in her eyes when the fairy princess was crowned. What a perfect keepsake for our very own darling little princess! Thanks for making little girls' dreams come true!"
Beth L., Toronto, Canada
"I became aware of the I See Me! personalized books when my daughter received one as a gift for her first born. We both thought it was darling and a great gift idea. I subsequently bought two as gifts for friends grandchildren. When I received notice of the newest I See Me! personalized storybook entitled,
My Very Own Fairy Tale
, I thought this was a perfect gift for three friend's newborn granddaughters. Everyone who receives these gifts just loves them. I received my order faster than I expected and was very pleased with the service from this company."
Pat S., Millstadt, IL
"I love this company. I found out about them when my son was born and I received the
My Very Own Name
storybook for a baby gift. It has become my favorite gift! The new
My Very Own Fairy Tale
storybook is wonderful and will also become a favorite I'm sure. They are excellent at customer service as well. I ordered a gift for a friend and they e-mailed to let me know that the child had already received the book, so I ordered her the fairy tale book instead. I can't say enough great things about them!"
Paige G., Houston, TX
"I ordered my first
My Very Own Name
book for my granddaughter almost three years ago. Since then, I've ordered over a dozen for other new babies and children that I love. These books make the most special keepsakes and are cherished so much that the parents really teach their children how to take good care of them. My granddaughter will be three next week and I just recently sent her the new book,
My Very Own Fairy Tale
. She called me immediately to tell me 'I love you Grandma, you're the best!' That's the greatest review in the world. I love the colorful illustrations as well as the creatively written stories. When I See Me! offers autographed copies, I try and think of anyone I've missed. I See Me! You're the best!"
M.J.D., Highland Falls, NY