Home
 >  09/07/2010 - My Very Own Pirate Tale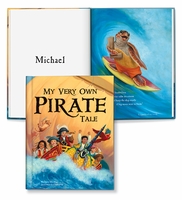 PRESS CONTACT:
Jennifer Dewing
(612)804-5640
jdewing@iseeme.com

NEW PERSONALIZED BOOK FOCUSES ON BUILDING SELF ESTEEM IN BOYS

I See Me! Inc. Launches Its Latest Personalized Storybook,
My Very Own Pirate Tale

MINNEAPOLIS (September 7, 2010) Self esteem is a vital key to success. It guides many of our decisions in life and shapes who we become. This fall, I See Me! Inc. introduced My Very Own Pirate Tale. It is the first in I See Me! Inc�s series of personalized children�s books to focus primarily on literacy and building self-esteem in young boys, although it�s appropriate for all children 0-10 years-old.

Studies have shown that boys with positive self-esteem become confident leaders, while boys with low self-esteem are more prone to being bullied. Illiteracy can lead to life-long struggles, and for boys it is often fostered by a lack of engagement. My Very Own Pirate Tale transports the child onto a magical ship where he is the hero of this one-of-a-kind, personalized story which helps to build confidence while celebrating the adventurous spirit of boys.

My Very Own Pirate Tale captivates the child with an action-packed adventure that reiterates some of the many positive qualities that make them unique and special. In the story, the captain of the pirate ship needs to find the perfect first mate in order to open the treasure, and he enlists the help of the sea creatures. Each adorable creature gives clues in the form of a letter and attribute associated with the perfect candidate. For example, the barracuda brings a �B� for a brave boy he knows. The crab brings a �C� for a caring child. Each letter helps spell out the name of the perfect first mate and the code to the treasure. Beautiful, rich illustrations by the award-winning illustrator Lisa Falkenstern draw children into the adventure. An encyclopedia with pictures and descriptions of all the wonderful sea creatures in the back of the book adds further education and enjoyment.

Like all I See Me! Inc. books, My Very Own Pirate Tale is personalized with the child�s first and last name and includes a dedication to the child from the sender. My Very Own Pirate Tale retails for $29.95 and is available online at www.ISeeMe.com. It arrives within two weeks of ordering with standard delivery.

I See Me! Inc. creates high-quality personalized books that celebrate the uniqueness of each child. The company�s goal is to build self-esteem in young children as they read these keepsake books. For more information or to take a virtual tour of the current books, visit www.ISeeMe.com.