Home
 >  01/19/2010 - Who Loves Me?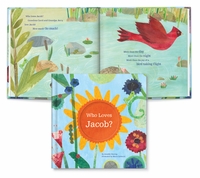 PRESS CONTACT:
Jennifer Dewing
(612) 804-5640
jdewing@iseeme.com

WELCOME A NEW BABY WITH A SPECIAL MESSAGE WRAPPED IN LOVE
I See Me! Inc. Launches Its Latest Personalized Storybook, Who Loves Me?

MINNEAPOLIS (January 19, 2010) - It is often said there is no better gift you can give a child than love. Now I See Me! Inc. offers the perfect way to welcome new babies and introduce them to those most dear in their life, through its latest high-quality personalized children's book, Who Loves Me?

Written in melodious rhyme, with colorful, whimsical illustrations, Who Loves Me? builds self-esteem while engaging children through age 5 into the storyline. The book names family members or friends who love the child, and encourages the child to reach to the sky when asked how much each one of them loves him or her. Author Jennifer Dewing reassures the child they are loved so much by each, with unique and touching rhymes describing the depth of each individual's love. For example, for a child named Emily the book begins: Who loves Emily? Mommy loves Emily! How much? So much! More than the mountains, more than the streams, more than a little girl's happiest dreams.

With a sturdy 8.5 in. x 8.5 in. hard cover and 20 tear-free pages, Who Loves Me? is designed to be read over and over again. Award-winning illustrator, Maria Caruluccio, draws the child into each page with colorful, hand-illustrated nature scenes.

Like all I See Me! Inc. books, Who Loves Me? is personalized with the child'ss first and last name and includes a dedication to the child from the sender. Who Loves Me? retails for $24.95 and is available online at www.ISeeMe.com. This unique gift usually arrives within two weeks of ordering.

I See Me! Inc. creates high-quality personalized books that celebrate the uniqueness of each child. The company's goal is to build self-esteem in young children as they read these keepsake books. For more information or to take a virtual tour of the books, visit www.ISeeMe.com.