Home
 >  03/21/2011 - God Loves You!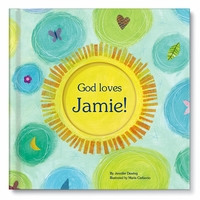 PRESS CONTACT:
Jennifer Dewing
(612) 804-5640
jdewing@iseeme.com


THE NEW GOD LOVES YOU! BOOK HAS CHILDREN JUMPING FOR JOY
I See Me! Inc. Launches Its Latest Personalized Storybook


MINNEAPOLIS (March 21, 2011) Publisher I See Me!, Inc. released its newest personalized children's book, God Loves You! This special picture book tells children just how much God loves them and that they are God's special creations!

God Loves You! features beautiful poetry by award-winning children's author Jennifer Dewing. The book celebrates the greatness of God�s love, telling children that God�s love for them soars to the sky like the redwoods, it blossoms and grows like fruit trees and flowers, and it streams like an ocean�s tide. The illustrations in God Loves You! are beautiful, nature-inspired paintings by award-winning artist Maria Carluccio.

God Loves You! is an 8.5" x 8.5" hardcover book with 20 interior pages. Like all I See Me! Inc. books, God Loves You! is personalized with the child�s first and last name and includes a dedication to the child from the sender. God Loves You! sells for $24.95 and is available online at www.ISeeMe.com. The book is a perfect gift for the birth of a baby, baptism, baby dedication, naming ceremony, first communion, Easter, Passover or everyday occasion. Ordering the book is easy at www.ISeeMe.com and it only takes two weeks from order to delivery. It is appropriate for children ages 0-10 years of the Christian, Jewish or Muslim faith.

I See Me! Inc. creates high-quality personalized books that celebrate the uniqueness of each child. The company�s goal is to build self-esteem in young children as they read their very own keepsake books. For more information or to take a virtual tour of the books, visit www.ISeeMe.com or call 1-877-744-3210.