5 Valentine's Day Coloring Activities for Kids
These easy Valentine's Day coloring activities for kids are a perfect way to celebrate the holiday and spread love and kindness to your friends and family! Valentine's Day crafts for kids spark creativity and make thoughtful handmade presents. Try out these simple craft ideas and feel the love this February!
5 Valentine's Day Coloring Activities for Kids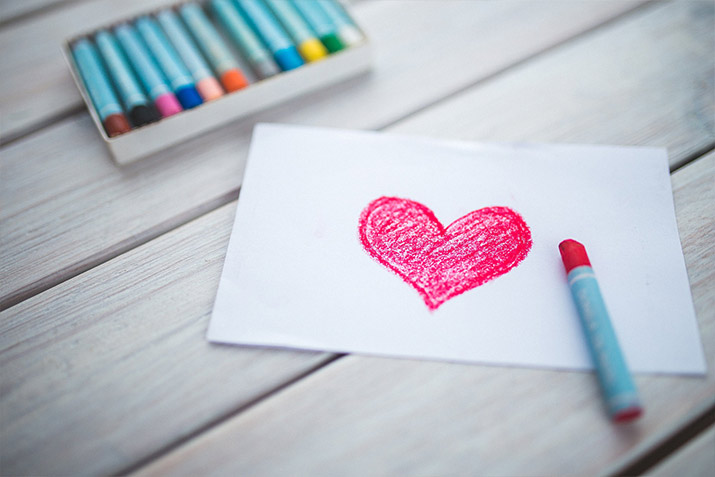 DIY Valentine's Day Card
Help your child create their own Valentine's Day card with this easy Valentine's Day craft activity for kids! Kids can make a card for their family, friends, or classmates and craft to their heart's content! You'll need:
White, red, and pink construction paper
Scissors
Markers
Glitter
Glue
Fold the paper in half horizontally. Cut out a heart from pink construction paper and glue it to the outside of your card. Spell out LOVE in glue (or cover the heart in glue for an easier project) and then sprinkle glitter over the glue, making sure to shake off excess. Inside, have your child draw hearts and flowers in marker. For a messy but fun time, cover your child's hand in glue and stamp their hand on the inside. Then cover the glue hand print in glitter. Get creative and make this Valentine's Day card your own! A card is a meaningful Valentines gift that spreads love and kindness.
Valentine's Day Coloring Pages for Kids
These children's Valentine's Day coloring pages can be prepped in advance and pulled out anytime your child wants to color! Kids love to color at all hours of the day, and especially during holidays. For a special Valentine's Day gift for kids, consider personalized coloring books featuring the child's name! For this coloring activity, you'll need:
White paper
Scissors
Markers or crayons
Prep each page by drawing outlines of shapes on white pieces of paper. For example, draw the outline of a heart with black marker. You can also draw box letter words such as LOVE, HEART, MY VALENTINE, etc. Kids can color in the shapes and words with markers or crayons. As an extra special surprise, give your child a coloring page each day for the fourteen days leading up to Valentine's Day. These Valentine coloring pages are fun for the whole family!
Heart Garland for Valentine's Day
Holiday garlands are often created by cutting out shapes from paper and stringing together. To make this Valentine's Day craft activity more interactive for kids, we've added a coloring element! You'll need:
White paper
Scissors
Markers or crayons
Glitter
Glue
Stickers
String
Tape
Cut out heart shapes from white paper. Then have your child decorate each one. Color the hearts with markers or crayons. Cover every other heart with glue and glitter, shaking off the excess, for a shiny showstopper garland! Add stickers to some of the hearts—personalized stickers with hearts and flowers that feature the child's name are charming additions to the hearts. When you are done decorating, glue the hearts across a long string. You'll see that love is in the air and everywhere when you hang your special garland for Valentine's Day!
Love Notes for Your Valentines
These mini heart-shaped love notes are the perfect way to surprise a loved one and say "I Love You" on Valentine's Day! As your child makes their own love notes, you can surprise your little ones with customized love notes that feature the child's name and photo! These notes make a perfect Valentine's Day present and can also come with the custom storybook My Little Lovebug. Have fun reading and crafting together this Valentine's Day! You'll need:
White paper
Markers or crayons
Glue
Glitter
Stickers, ribbon, fake flowers, and other decorations.
Fold your white paper in half. Draw a heart shape on the paper near the fold and be sure to incorporate part of the fold along the side of your heart shape. Cut out the heart. Now you have a mini heart card that opens like a traditional card. Decorate the outside with markers or crayons, glitter, stickers, ribbon, and more! Have your child write a love message on the inside (or write one for them) such as: I Love You, Hugs and Kisses, Thinking of You, Friends Forever. Kids can hand out these little notes to friends, family, and classmates. By passing out the notes, kids learn about the importance of compassion.
Valentine's Day Heart Pin
DIY a heart pin you can attach to your child's clothing or backpack! Kids will love wearing their Valentine craft at home and to school. This heart pin is also a great reminder to spread love and kindness to others at Valentine's Day and every day! You'll need:
Felt in red and pink
Scissors
Hot glue (parental supervision recommended)
Safety pin or pin magnet
Sequins, beads, and other decorative items
Cut out a heart shape from the red felt. Stick your safety pin through the red heart so it's fastened to the felt. Then cut a smaller heart shape from the pink felt. Glue the pink heart over the red heart (we recommend parental supervision if you are using a hot glue gun), which will hide the piece of the safety pin still showing. Glue beads, sequins, glitter, and other decorative items over your felt heart. If your heart is large enough, you can spell out your child's name in beads or glitter. Safety pin the heart to your child's shirt or to their backpack, to wear on Valentine's Day!