7 Homemade Father's Day Gift Ideas for Kids
Show dad how much you love him this Father's Day with custom gifts that have a heartwarming, personal touch! These Father's Day gift ideas will be treasured by dad long after his special day is over. Kids will have endless fun making these homemade gifts, to surprise dad on Father's Day morning.
Homemade Father's Day Gift Ideas for Kids
Hand print Coffee Mug
Customize a coffee mug dad can bring to work—perfect for remembering his loved ones every day! To make this Father's Day gift, cover your child's hand in enamel paint and press it against one side of the mug. With oil-based paint pens, write a fun saying or loving message on the other side along with the year. Bake your mug at 350 degrees for 30 minutes (or however long the paint type indicates). Once cool, apply an acrylic high gloss coating and let it dry before gifting.
Father's Day Photo Book
Staple paper together like a book and glue favorite photos of dad on each page. Add cute and funny captions under each photo and draw designs or frames around each one. Keep a blank page at the end, where you can write a special message to dad and add a photo taken on Father's Day. Kids will love crafting their own photo book for dad, to tell him how much he is loved. If you are looking for an easy way to create a book, try a personalized storybook like Super Dad! This custom Father's Day gift lets you add dad's name and photo throughout the story, plus the family member's names.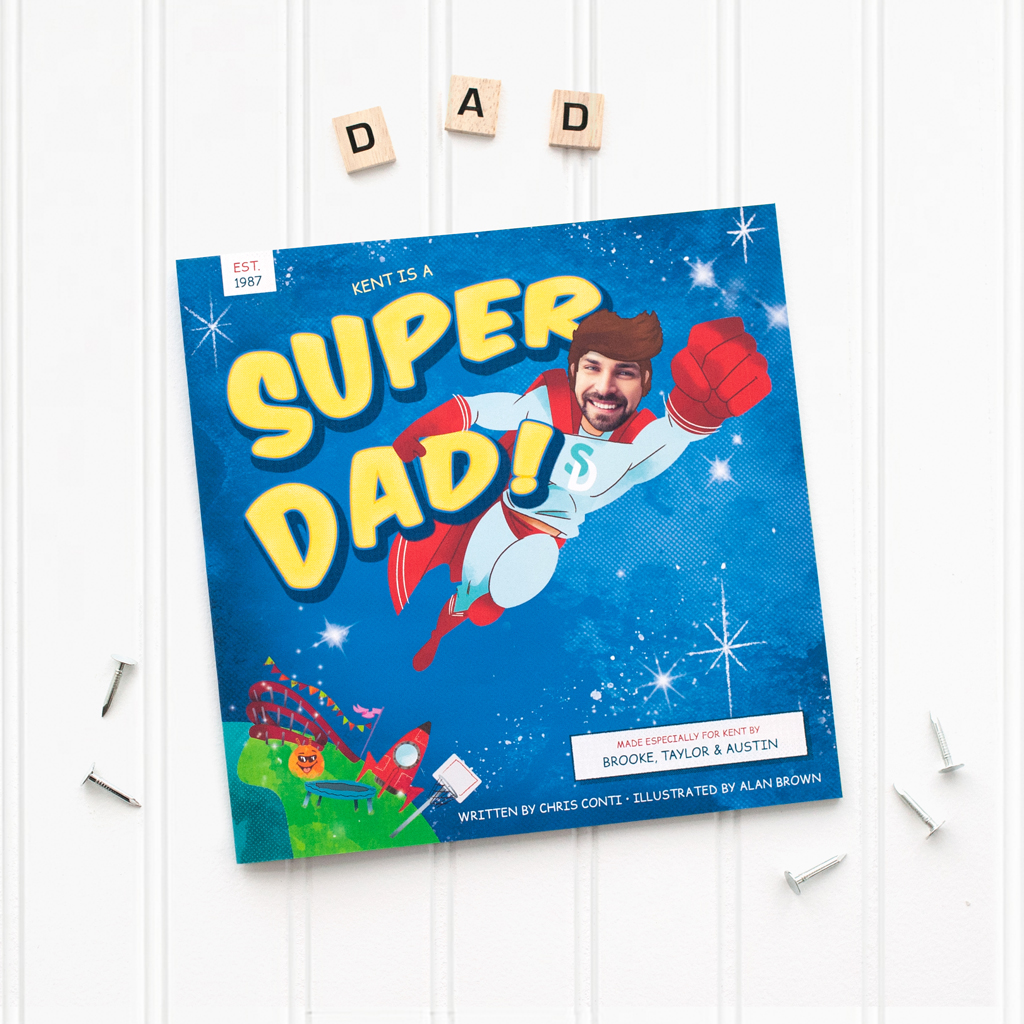 Super Dad Father's Day Card
To accompany your photo book or customized storybook Super Dad!, make your own superhero-themed card to celebrate all the ways dad is a super-cool hero. Create a paper doll out of construction paper and decorate it with a face and mask—to resemble your dad. Cut out two curved triangles to look like the sides of his cape. Attach them to each side of the paper doll using push pins. Glue a photo of dad onto the center of the paper doll and move the cape pieces to hide the photo. When you give dad your card, surprise him by pushing the cape away to reveal his photo!
Dads are the best kind of superheroes—there whenever you need them, loving, and supportive. Make him feel like a celebrated superhero on Father's Day with a heartfelt card you made yourself!
DIY Desk Organizer Cups
For this Father's Day craft, use recycled soup cans and decorate them with colored paper, markers, glitter, and more! Have kids cut out photos of their own faces and glue them to the cans, to create a personalized collage. Dad will love seeing his beautiful family's present on his work desk every day!
Father's Day Goodie Gift Basket
This customized Father's Day gift will surprise dad with his favorite treats! Make your own gift basket out of woven paper, Popsicle sticks, card stock, or any other craft material you like. Then fill the basket with dad's favorite goodies. Here are some ideas to fill the Father's Day gift basket:
Mini potato chip or popcorn bags
Chocolate
Soda cans
Mini bottles of hot sauce or barbecue sauce
Grilling spices
Bags of specially flavored nuts
Golf balls and tees
Fishing lures
Along with all these goodies, your child can include a handmade card to dad. Dad will love opening his goodie basket and sharing his present with the whole family.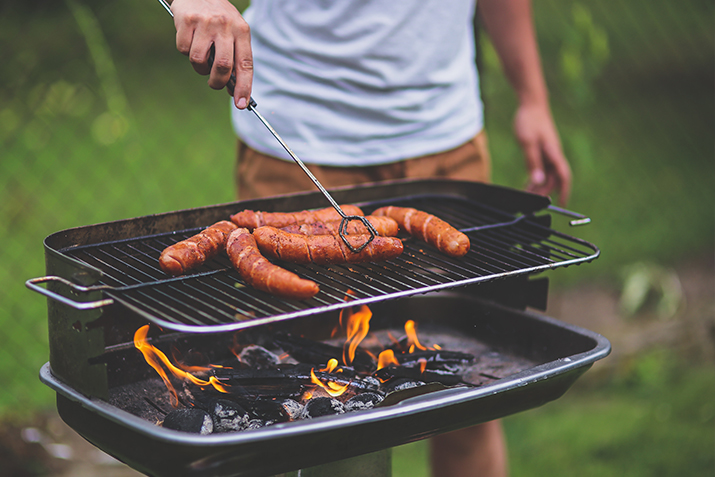 "World's Best Pop" Six Pack
Fill empty soda pop bottles with dad's favorite snacks such as peanuts, M&Ms, gummy bears, malted milk balls, etc. and put them into a six-pack container. Kids can craft their own label for each bottle and a label for the container that says, "World's Best Pop." For the bottle labels, try to add funny phrases that tie into the snacks such as "Nuttiest Dad" on the peanut bottle and "A Beary Sweet Dad" for the gummy bear bottle. Dad will love snacking on these personalized treats during family movie night!
Dad String Art
Make dad a string art masterpiece he can hang at home or work. This handmade Father's Day gift is best suited for kids who are a bit older. There are two ways to make this string art gift. For the first, buy a piece of canvas and trace the letters D-A-D onto it. Parents, you'll want to prick needle holes around the letters to prep the canvas. With a needle and string, kids can sew different colors across the holes to spell out "Dad." The second way to make string art is with nails on a wooden block. Parents, hammer nails into a wooden board to spell D-A-D in block letters. Kids can then wrap the string around the nails inside the letters to fill them in.
Dad will treasure these thoughtful and creative handmade gifts. The perfect gift doesn't have to be expensive or planned out months in advance. Instead, try these cute and inexpensive Father's Day ideas that kids will love making!
Resources
https://tipjunkie.com/what-to-make-for-dad/
https://www.acraftyconcept.com/diy-handprint-mug-fathers-day-gift/