5 Fall Recipes for Family Dinner
Warm up your fall with these easy family dinner recipes! Whether you need a family meal that is kid-friendly, comforting, healthy, or substantial to yield amazing leftovers, we have fall recipes sure to delight you and your kiddos. Fall flavors make your weeknight meals festive and flavorful. Get cozy with a heaping bowl of creamy chicken pot pie; or enjoy a cool fall evening with grilled hot dogs topped with spiced apple slaw. With cooler months ahead, try these simple fall recipes for your next cozy dinner as a family.
5 Fall Recipes for Family Dinner
Kid-Friendly Fall Recipe: Ham and Cheese Quesadillas
Mac & Cheese Topping and Honey Mustard Dipping Sauce
Nothing says fall more than warm honey ham wrapped in gooey cheese! These ham and cheese quesadillas are fast, easy and fun to make with your kids! This fall twist on a popular family favorite is super easy to eat—perfect for messy little ones to pick up with their hands. Since kids love chicken nuggets with honey mustard sauce, we've added a honey mustard dipping sauce for their quesadillas. Top off your quesadilla with a boxed or homemade macaroni and cheese and wow your kids for family dinner! This kid-friendly meal is a delicious fall comfort food.
Ingredients for Quesadillas:
Large flour tortillas
Honey ham, sliced or cubed
Grated cheese – we recommend Swiss or Colby Jack
Macaroni and Cheese topping – either in the box or homemade
Butter
Ingredients for Honey Mustard Dipping Sauce:
½ cup mayonnaise
2 tablespoons yellow mustard
1 tablespoon Dijon mustard
2 tablespoons honey
½ tablespoon lemon juice
For this recipe, use a quesadilla maker or go with the pan method: Put one tortilla into a buttered pan and add your cheese and ham. Layer the top with your other tortilla and cook until bottom is golden brown. Flip over and cook the other side. Put a lid on your pan to melt the cheese.
To make your honey mustard dipping sauce, combine the mayonnaise, yellow mustard, Dijon mustard, honey and lemon juice. Mix well and serve on the side. Now comes the kid-favorite garnish! Make your favorite boxed or homemade macaroni and cheese and serve a nice gooey helping over your quesadilla. Kids will fall in love with this family dinner idea.
Family Recipe for Leftovers: Pulled Pork Grilled Cheese
Make this yummy version of grilled cheese for your next family dinner! Kids who might turn away from pulled pork will be enticed by the familiar smell and look of grilled cheese. The best part? Use your leftover pulled pork to plan easy dinners. We've provided some leftover meal ideas after the recipe below! This family fall recipe will leave you drooling with happiness.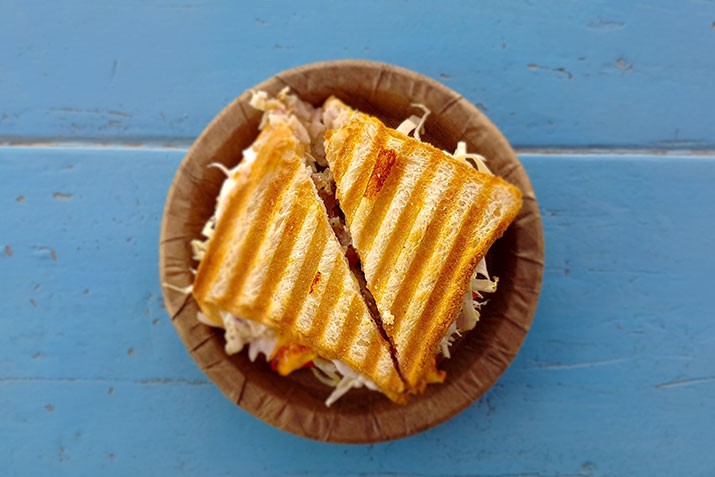 Ingredients for Grilled Cheese:
Bread, sliced – we suggest a hearty wheat loaf, perfect for chilly fall nights
Butter
American cheese slices
Ingredients for Slow Cooker Pulled Pork:
1 (2-3 pound pork shoulder)
3 tablespoons Worcestershire sauce
1 tablespoon chili powder
1 can chicken broth
4 gloves garlic, minced
1 teaspoon ground cumin
½ teaspoon liquid hickory smoke
1 tablespoon brown sugar
For Rub:
1 tablespoon paprika
1 tablespoon packed brown sugar
1 tablespoon salt
1 tablespoon garlic powder
Combine the paprika, brown sugar, salt and garlic powder in a small bowl. Rub the mixture all over the pork shoulder. In a slow cooker, add the Worcestershire sauce, chili powder, chicken broth, garlic, cumin, liquid smoke, and brown sugar. Stir until combined. Add the pork shoulder into the slow cooker and cover. Set on low and cook for 10 hours. Remove the pork shoulder and shred with two forks.
Cover your frying pan bottom with butter. Make your grilled cheese with bread, American cheese, and pulled pork—layering the pulled pork between American cheese slices. Cook your sandwich on each side until toasted. Cover for 1-2 minutes until cheese is melted.
These pulled pork grilled cheese sandwiches will be an irresistible fall treat for dinner! Need to use up your leftover pulled pork?
Here are some meal ideas for the rest of the week:
Pulled pork tacos
Pulled pork pizza
Hot dogs with pulled pork topping
Bell peppers stuffed with pulled pork
Barbeque pulled pork sandwiches
Pulled pork nachos
Easy Fall Family Dinner: Hot Dogs with Apple-Cinnamon Slaw
Bring the taste of fall into your home with this easy, kid-friendly recipe! Kids love hot dogs. So we've put a fun twist on this favorite food with an apple-cinnamon slaw. Turn this meal into a family activity and visit your local apple orchard to pick out fresh apples for the hot dog topping. If it's a beautiful fall day, put the hot dogs on the grill and dine outside among the colorful leaves!
Ingredients:
Hot dogs
Hot dog buns
2 cups shredded cabbage
1 ½ cups chopped or thinly sliced apple – Honeycrisp apples from the apple orchard will have a sweet and tart crunchy kick!
1 cup vanilla yogurt
2 tablespoons apple juice
¼ teaspoon ground cinnamon (or to taste)
Cook your hot dogs by boiling, pan frying, or cooking on the grill. For the slaw, combine the shredded cabbage, apple, yogurt, apple juice, and cinnamon. Stir well so your slaw is evenly coated. Top your hot dogs with the apple-cinnamon slaw and enjoy this sweet taste of fall!
Go-To Comfort Food: Chicken Pot Pie with Biscuits
Find your next quick and easy comfort food meal with this chicken pot pie recipe! Soft and chewy biscuits float on top of a warm, gooey chicken pot pie filling. Just pop out of the oven and serve from the pan. Kids of all ages will love this comforting meal on a cold fall night. Frozen vegetables and refrigerated biscuit dough make this an easy, kid-friendly dinner. Satisfy your family's craving for homemade comfort food without all the time-consuming prep work and try out this recipe!
Ingredients:
1 small onion, chopped
Frozen vegetable medley with green beans, corn, peas and carrots
3 tablespoons parsley, chopped
¼ teaspoon dried thyme
¼ cup all-purpose flour
2 cups lower-sodium chicken broth
2/3 cups half-and-half cream
3 cups cooked chicken, cut into cubes
Salt and pepper to taste
1 can refrigerated flaky-style biscuits
1 egg yolk, beaten
1 tablespoon water
Melt butter in a pan over medium-low heat and cook the onion until tender. Add the vegetable medley, parsley, thyme and flour. Cook, stirring constantly, until the flour coats the vegetables and begins to fry for about 5 minutes. Add the chicken broth and half-and-half cream. Cook until the sauce is thick and bubbling. Season with salt and pepper. Finally, mix in the chicken meat.
Transfer the mixture to a 2-quart baking dish. Then arrange the biscuits on top of the filling. Beat the egg yolk with water in a small bowl. Brush the mixture on top of the biscuits.
Bake at 350 degrees for 20-25 minutes, until the biscuits are golden brown and the filling is bubbling.
Healthy Family Dinner for Fall: Instant Pot Pumpkin Chili
This chili recipe is full of healthy vegetables and makes a hearty dinner! Thick with a hint of pumpkin flavor, this chili has warm yummy goodness for cool evenings. And with an Instant Pot, this family meal will be ready in no time! Chili is easy to reheat and pairs perfectly with cornbread or sourdough slices. Spice up your next family meal with this pumpkin chili Instant Pot recipe!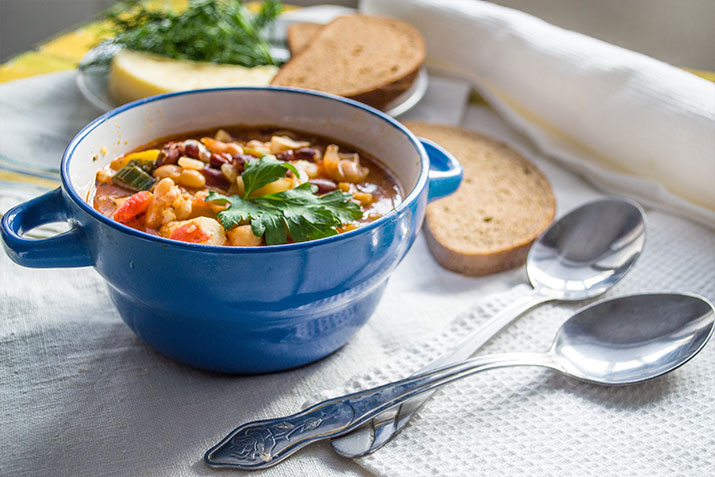 Ingredients:
1 tablespoon canola oil
1 yellow onion, diced
1 green bell pepper, diced
2 pounds lean ground beef
1 ½ tablespoons chili powder
½ tablespoon cocoa powder
½ tablespoon pumpkin pie spice
¼ teaspoon cayenne pepper
1 cup apple cider
15 oz. canned pumpkin puree
30 oz. canned red kidney beans, drained and rinsed
28 oz. canned crushed tomatoes
¼ cup fresh cilantro, chopped
Salt to taste
Toppings: lime wedges, shredded cheese, sour cream, chopped green onion, avocado slices, and/or extra cilantro
Turn the Instant Pot to the "Sauté" function. Sauté onions and bell pepper in the canola oil until soft and lightly brown, about 5 minutes (stirring occasionally). Add the ground beef and cook, crumbling as you go, until browned for about 5 minutes. Add the chili powder, cocoa powder, and pumpkin pie spice. Stir to coat. Add the apple cider and stir, scraping up any bits stuck to the pressure cooker bottom. Add the pumpkin, beans, and crushed tomatoes. Mix together well.
Cover the Instant Pot and set to manual at high pressure for 20 minutes. Then allow the pressure to release naturally or use the quick release (waiting until the float valve has sunk down before opening).
Stir in the cilantro and season with salt to taste. Serve with additional toppings and enjoy!
Apple cider, pumpkin pie spice, and pumpkin puree add just the right amount of fall spice to this recipe. This Instant Pot meal will soon become a family favorite during the fall season.
Resources:
https://www.allrecipes.com/recipe/173697/yummy-honey-mustard-dipping-sauce/
https://www.saltandlavender.com/slow-cooker-pulled-pork-sandwich-apple-slaw/
https://www.tasteofhome.com/recipes/apple-cinnamon-coleslaw/
https://www.bowlofdelicious.com/instant-pot-pumpkin-chili/
https://www.allrecipes.com/recipe/216758/moms-fabulous-chicken-pot-pie-with-biscuit-crust/