Content:
Home
 >  How to Build a Book Nook With Your Special Children's Books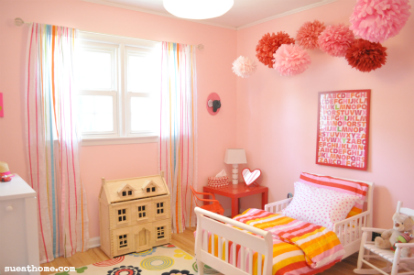 11/13/2012 - How to Build a Book Nook With Your Special Children's Books
Written by: Sue Erneta, Sue at Home
Hi! I'm Sue Erneta from Sue at Home and I'm thrilled to be here at I See Me! for a guest post about decorating with books. When my daughter Lily was born, a friend gave us the I See Me! classic, My Very Own Fairy Tale and we've been enjoying it ever since. (In fact, big sister Sophia loved it so much that we got one with her name, too!) I was thrilled to see how many more books I See Me! offers now -- including many with Lily's name on the cover (which she LOVES!). So, I figured I had to find a way to display them better.

Today I'd like to show you a little book nook that I created for Lily's room using some old shelves that were busy collecting dust in my attic. For anyone not acquainted with Lily's room, here's a peek (pictured above). I love it so much! It makes me smile every time I walk in!

But conspicuously missing from that pretty picture is the other side of the room that, until recently, was a dead zone of dust bunnies and a couple overcrowded book bins.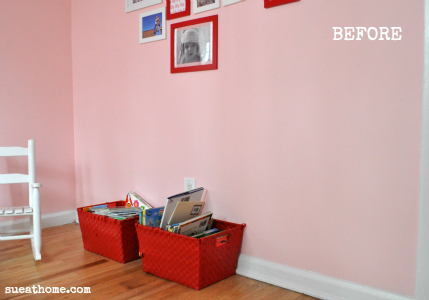 Sad, isn't it? Don't worry, it gets better!

You see, I found these picture ledges in our attic and decided they would be able to help. A quick clean up and a spray paint touch-up and they were ready to attach to the wall. (Don't forget to use anchors if you're screwing into drywall.)

Next, I just propped up a few books and voila! -- instant book nook!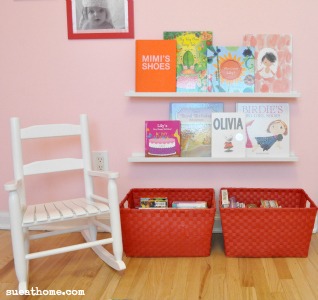 I also cleaned out the bins to make some wiggle room. Some less-read-books were shifted to the playroom where they'll live until I switch them back. (Have you ever noticed that kids like toys and books more when they haven't seen them for a while?)

There are so many great I See Me! books to choose from but a few Erneta-family favorites are: My Very Own Fairy Tale (which has different fairies spell out the name of "the princess of all the fairies" -- spoiler alert, it's your kid!), Lily's Very Happy Birthday (a great gift idea), Who Loves Lily (this tearjerker goes through each member of your family and tells how much they love Lily -- it's gets me every time!) and Lily's favorite which is Lily's Royal Birthday Adventure (a grand and very beautifully illustrated book complete with unicorn rides and a 10 tiered cake. She is obsessed with it!).

Hope you like the transformation as much as Lily does!

To everyone at I See Me!, thanks for having me. And make sure you click over to my blog, Sue at Home, to enter my giveaway for a chance to win an I See Me! personalized book!