These Easter crafts for kids bring the whole family together to celebrate the holiday and ring in the arrival of spring! Kids will love making their own Easter Bunny mask and decorate an Easter egg garland!
Why Do We Celebrate Easter?
Before you make these fun Easter crafts for kids, you might want to explain why we celebrate Easter and the meaning behind the holiday. Easter is a Christian holiday, taking place on April 21st this year. On Easter, Christians celebrate the resurrection of Jesus Christ—when Jesus arose from the dead. Themes of hope, birth, and renewal are celebrated at Easter. Even if your family is not Christian, you can still celebrate Easter. Easter can be a fun and meaningful celebration for all—place emphasis on the Easter Bunny and teach kids about concepts of life and death.
Easter and Passover
Often, the Christian celebration of Easter and the Jewish celebration of Passover overlap. This year, Passover takes place from April 19th to April 27th. This 8-day Jewish spring festival commemorates the liberation of the Israelites from slavery in ancient Egypt. On the first night of Passover, one eats Matzah. Many spring activities listed below are also fun to do at Passover.
How Can Families Celebrate Easter in April?
Easter is a perfect time to spend quality time together as a family and start new Easter family traditions. Along with these Easter crafts, try some of these fun family activities:
Take a spring walk.
Dye Easter eggs.
Watch an Easter parade in your community.
Plant flowers or start a garden.
Hold an egg and spoon race. Winner gets a chocolate bunny!
Go on an Easter egg hunt. (You can create your own in the backyard.)
Make an Easter basket for the Easter Bunny. Leave the Easter bunny a basket of carrots, nuts, and chocolates—he'll love getting treats in return!
Surprise your child with plastic eggs that hide little surprises leading up to Easter. A Personalized Easter Bunny Activity Basket is another egg-cellent gift for kids with a plush bunny, stickers, and activity sheets.
Bake a colorful Easter cake and decorate it with sprinkles and frosting.
Make Easter s'mores. Use PEEPS® for a colorful snack.
Host a children's Easter party. Personalized Easter stickers make fun party favors.
Cozy up together during an Easter storytime and read a cute personalized book such as My Snuggle Bunny.
Easter is a perfect time to start some new spring traditions for the whole family. Make lasting memories and enjoy the warmer weather this spring.
Easter Crafts for Kids
These simple and fun arts and crafts for kids are perfect for toddlers and kids to celebrate the Easter holiday! In most cases, you can use materials you have around the house or improvise with craft scraps. Engage little ones with spring craft activities that will spark their creativity and imagination.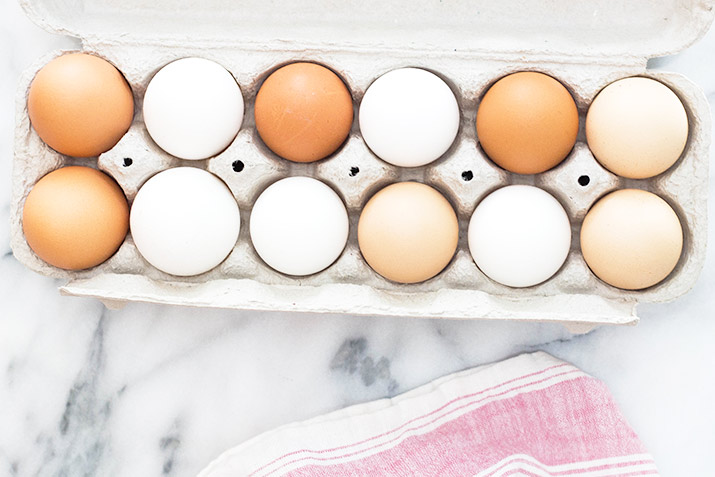 Easter Bunny Mask
Kids can pretend to be the real Easter Bunny with this easy craft mask made from paper. Make multiple masks and put on your own Easter play! You'll need:
Paper plates
Scissors
Construction paper
Tape
String
Hole puncher
Place the paper plate against your child's face and draw a line across the plate, just below their nose. Cut along that line and get rid of the bottom piece. Trace where your child's eyes are and cut out holes. Using markers, draw a nose with whiskers. Cut two rabbit ears from white construction paper and color the insides pink. Tape the ears to the plate. Punch a hole into either side of the plate. Loop the string through and tie it to your child's face. Kids will be so "hoppy" play-acting as the Easter Bunny and hopping around the house.
Easter Egg and Carrot Garland
Bring a bit of cheer and color to your mantle, kitchen cabinets, or windows with an Easter egg garland. Handmade home decorations are heartwarming reminders of your time together. You'll need:
Construction paper
Markers
Scissors
String
Hole puncher
Tape
Cut out eggs from various colors of construction paper. Decorate your eggs with markers—with polka dots, zig-zags, stars, and squiggles. Cut out long rounded triangles from orange construction paper and tape green paper fringe to the top to make your carrots. Punch holes in the tops of your eggs and carrots. Pull the string through each hole to connect them together. Use clear tape or painter's tape to hang your Easter garland and ring in the start of spring!
Egg Carton Chicks Spring Craft
These cute and cuddly chicks won't make a peep and fit in the palm of your hand. This Easter activity recycles a leftover egg carton and only takes five minutes to make! You'll need:
Egg carton
Orange construction paper
Glue
Yellow paint
Black marker
Feathers
Cut apart two egg holders from the carton and trim any excess. Glue the two halves together to form the chick body. Paint the body yellow. When dry, draw eyes with black marker. Cut out an orange triangle from construction paper (the beak) and glue it on. Cut out feet from the orange paper and glue them to the bottom. Poke some feathers into the back of the carton, to give your chick a colorful tail!
Yarn Eggs
Real eggs are easy to break and make a mess. But yarn eggs are fun to make, perfect for decorating your house, and soft to the touch for little hands to play with. This children's Easter craft requires few materials and yields Easter eggs that last forever! You'll need:
Yarn
Water balloons
Watered-down glue
Scissors
Blow up the water balloons and tie them closed. Put a mixture of two-parts glue to one-part water in a bowl and mix. Dip a section of your yarn into the glue and wrap it around the balloon. Continue this process with the yarn—dipping it into the glue and wrapping it around the balloon in different directions. When you think you've done enough crisscrossing, cut off the excess yarn. Take some extra glue in your hand and dab it over the yarn, if you think it's too dry. Then let it sit to dry. Once dry, pop the balloon with a scissors and pull the balloon out of your yarn egg. Place these eggs in a bowl on your table for an Easter centerpiece or decorate your mantle. You an also put a string through each egg to create a festive garland.
Bunny Spoon Dolls
Create your own Easter Bunny spoon dolls to play with at Easter! Kids young and old love playing with dolls. These spoon dolls harken back to the days of paper dolls with a crafty, modern twist! You'll need:
Plastic spoons
Construction paper
Scissors
Glue
Tape
Flip over your white plastic spoons and draw a bunny face. Cut out bunny ears from white construction paper and tape or glue them to the other side of the spoons, at the top. Cut out a bow tie from construction paper and tape it to your bunny's spoon neck. You can also cut out and tape on clothes or cut out a green paper square with fringe to place your bunny popping out of grass! Try creating a whole bunny family for imaginative playtime. This cool craft for kids uses leftover household objects. Use up those extra plastic spoons from Easter lunch and have an egg-cellent time!
Clothespin Chick-in-Egg
Kids can play peek-a-boo with their own clothespin Easter craft that reveals a baby chick inside an Easter egg! This craft activity for kids takes a few minutes to make but offers endless fun long after the holiday is over. You'll need:
Glitter craft foam (any color you choose)
Yellow construction paper
Markers
Scissors
Clothespins
Glue
Cut an egg shape out of glitter craft foam, about 3-4 inches long. Then make a zig-zag cut across the middle, to create two halves. With the egg together, flip it over. Line up your clothespin to the back of the egg and glue it in place. Cut out a small square from craft foam, and glue it to the bottom piece of the clothespin, on the back. Then glue your chick to the foam piece. When you flip your clothespin over, you should be able to open it and reveal the chick inside! Try making your clothespin chick and eggs in multiple colors. You can also use these as fun table decorations and give them out as party favors for a children's Easter party.
Easter Suncatchers
This Easter craft for kids will catch the sun and display it in brilliant colors throughout your home! Kids as young as two or three can do most of the work. Make sure to cover your table with paper or a cloth, as this kid craft can get messy! You'll need:
Wax paper
Card stock paper
Watered-down glue or Mod Podge
Tissue paper in various colors
Paint Brush
Scissors
String
Hole puncher
Cut out Easter shapes from the card stock paper, such as an egg, a bunny face with ears, and a baby chick.  Then cut out the inside of each shape, leaving a one-inch outline. Tape or glue wax paper to each shape and trim the excess. Cut out triangles from the tissue paper. Put the glue or Mod Podge onto the wax paper, place the triangles down, and then cover the triangles with more glue or Mod Podge. When the shape is covered, leave it to dry for 2-3 hours. Punch a hole at the top and loop string through for hanging. This colorful craft is a perfect home decoration to celebrate Easter!
Resources:
https://onelittleproject.com/easter-crafts-for-kids/
https://coolmompicks.com/blog/2017/04/06/fun-and-easy-easter-crafts-household-objects/