How to Celebrate National Superhero Day
With the debut of the Captain Marvel movie and National Superhero Day on April 27th, now is the time to put on your capes, celebrate real and fictional heroes, and inspire courage and compassion in kids.
Fictional superheroes are community role models. They teach children about responsibility, self-confidence, and the importance of standing up to injustice. There are also real superheroes all around us that model these same traits: firefighters, police officers, teachers, parents, a neighbor lending a helping hand during a difficult time. Kids can also do small things to model superhero behavior and feel like they can conquer the world! Here are ways you can celebrate National Superhero Day and inspire your kids to reach for the sky.
Celebrate National Superhero Day and role play as superheroes.
Imaginative play can help kids take on positive behavioral traits. When kids imagine themselves as superheroes, they can grow to become more confident and compassionate in real life. Role play allows kids to act out different scenarios in a safe space and imagine how they would handle different situations. So don your cape and mask and save the world from a catastrophe! Try putting couch cushions on the floor and pretend you are crossing a dangerous lava river. Hop to each new cushion and get that much closer to saving the day. Inspire your kids further with a photo-personalized storybook like Super Kid!, which immerses your child in the superhero world and comes with a superhero cape and mask for playtime.
Build a superhero fort and draw up a plan to save the world.
Every superhero needs a hidden lair or home base to plan ways of saving the world from destruction! Place chairs in a circle and cover them with large blankets. Lean pillows or couch cushions against the chairs to cover the gaps between chairs. With your lair built, crawl inside and draw up a master plan for saving the world. Use crayons and paper to make a master plan. What equipment will you need? What vehicle will you use? Who is the villain and what is their weakness?
Spark your child's imagination and creativity with an epic superhero fort! Kids will love daydreaming about heroic deeds—and maybe they'll start incorporating small acts of heroism into their day-to-day!
Do something charitable in your community.
Superheroes help their community, whether it's saving a cat from a tree or rescuing people from a burning building. Kids can also perform acts of charity and kindness in their neighborhoods and among family, modeling heroic behavior daily.
Help an elderly neighbor with yard work or deliver their mail at the door.
Pick up trash from the side of the road or clean up your local park.
Donate food to a local food shelf.
Ask guests at your child's birthday party to donate to a charity instead of giving presents.
Have your child give their teacher a kind note or a snack.
Make cards with kind messages and hand them out to residents at a nursing home.
Leave flowers on someone's doorstep.
Invite a classmate to a play date.
Plan a Skype video call with a long-distance relative.
Give a stranger a compliment.
By performing these small kind acts, children learn the value of giving back. Kids can be superheroes in their daily lives, helping others to feel better.
Visit the library and spend the day reading comic books.
Introduce kids to comic book stories like Spider-Man, X-Men, Iron Man, and Captain America. Reading at the library allows you to spend quality time together and provides your kids with an endless supply of inspiring hero tales. Comic books are perfect for kids who struggle with reading because they integrate exciting visuals with the text. These stories teach kids important life lessons about teamwork, courage, and self-growth. Comic books open up imaginative worlds with heroic role models and introduce positive lessons to young kids.
Attend a local firefighter picnic or fire station event.
Look for community events where kids can talk with firefighters, tour a fire station, and get a close-up look at a fire truck. At these events, kids learn about the dangers of the job, how firefighters use teamwork to be effective, and how these real-life heroes find the courage to do the right thing every day. Kids can model this positive behavior at a young age. Firefighters are everyday role models in our community, proving that not all superheroes wear capes.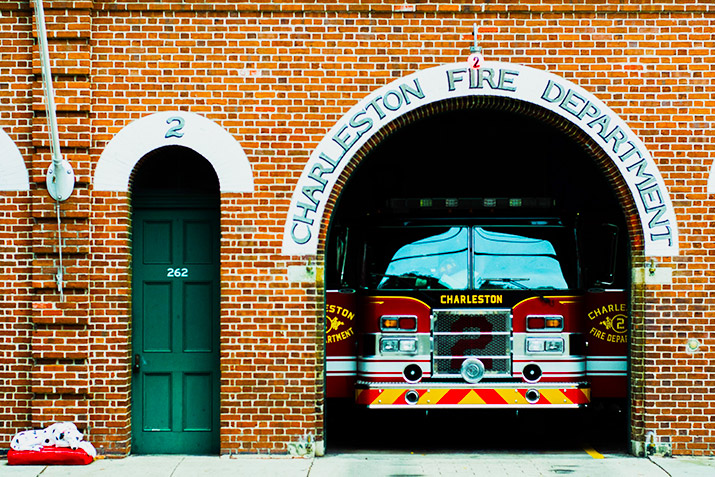 Host a superhero-themed friend sleepover.
Superheroes sometimes rely on the support of friends and other superheroes to save the day. In Avengers: Infinity War, Bruce Banner (a.k.a The Hulk) joins forces with Tony Stark (a.k.a Iron Man) and Dr. Strange to fight impending evil. In Spider-Man: Homecoming, Peter Parker has best friend Ned to share his secret and act as a supportive confidant. Good friends help you when you are feeling down, boost your self-esteem, and inspire us to strive toward new goals. Teamwork can be essential in your adult personal and professional life, so building friendships at a young age is especially important.
Help create a friend support system for your child and host a superhero-themed sleepover! Kids can make their own capes and masks and come wearing superhero pajamas. Select a couple Marvel or DC Films superhero movies to watch and serve cupcakes decorated like your child's favorite superhero.