Kids' Games and Activities to Celebrate Independence Day
Celebrate Independence Day with these patriotic kids' games and activities for the whole family! These children's activities help kids learn about the meaning and history of 4th of July while having fun on this special holiday. There are so many creative ways to honor our Founding Fathers and make lasting memories. Plan a fun Fourth of July bash this year with these game ideas below.
Kids' Games and Activities to Celebrate Independence Day
American Flag Scavenger Hunt
Hide American flags around your backyard for the kids to find. This 4th of July game is perfect to play during a family barbecue. If the whole family is fathering for Independence Day, have everyone participate for fun family bonding!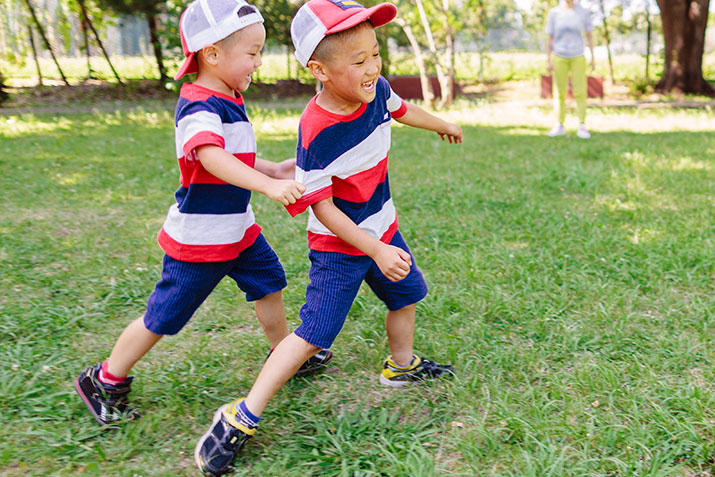 Bike Decorating and Independence Day Parade
Have the whole family decorate their bikes with patriotic streamers, ribbon, flags, and beads. Then go on a family bike ride and hold your own 4th of July bike parade around the neighborhood.
Pool Party Games for Your 4th of July
Soak in the sun and splash the day away with patriotic pool party games! Place flags at either end of the pool. Kids must race to each side and collect as many flags as they can. The swimmer with the most flags wins. Another 4th of July game you can play is red, white, and blue tag. Give kids a different colored flag. As they play, they collect the flag of the person they tag. The first one to get all three colored flags wins.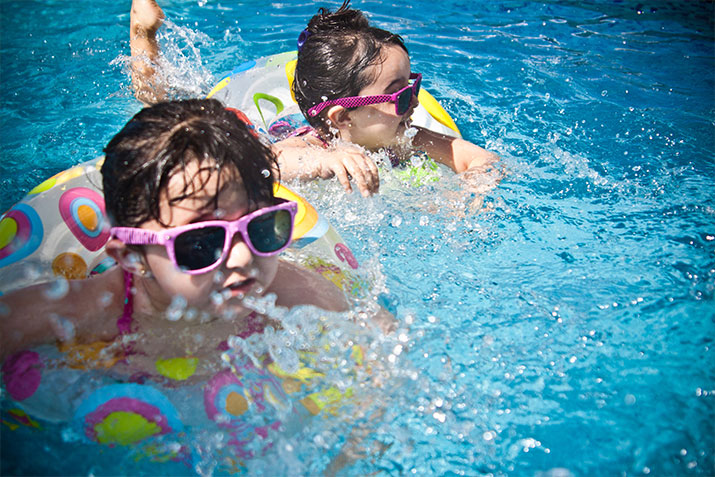 Fourth of July Backyard Bananagram® Game
Write letters on large pieces of paper or cardboard. Then distribute tiles to each person. Players must aim to use all their letters spelling patriotic words, building a word grid. The first player to use all their letters wins! This is a perfect 4th of July activity to play on the grass in the backyard, requiring little set-up and easy clean-up. Kids will improve their spelling skills and learn different Independence Day-themed words such as states, flag, independence, America, equality, liberty, nation, and more.
Duck, Duck, Founding Father
This patriotic version of the popular game "Duck, Duck, Goose" teaches kids about our Founding Fathers. Write the names of Founding Fathers on note cards and tape a card to each child's back. Instead of shouting "goose" the child shouts the founding father's name and tags the person for an exciting chase around the circle.
Bake an American Flag Pizza
Kids will love baking and eating pizza that looks like the American flag! Roll out your pizza dough into a square. Sprinkle lines of cheese over the tomato sauce for stripes and put pepperoni in the corner for stars. For an extra dash of creativity, use a mini star-shaped cookie cutter to cut your pepperoni into the right shape! While you wait for your pizza to bake, introduce kids to America's fifty states with the photo-personalized storybook My U.S.A. Road Trip. In the book, kids take a road trip tour of America and learn fun facts about their home state.
Statue of Liberty Crown Craft Activity
This 4th of July craft activity is the perfect way to celebrate America's freedom and serves as a fun introduction to teaching kids about the Statue of Liberty and what it stands for. Cut a paper plate in half and then cut the center out to form your crown. Cut paper into long triangles. Paint your paper plate and triangles the same color green. Glue the triangles onto the grooved part of the paper plate, about 2 inches apart. Glue ribbon on either side of the crown and tie it around your child's forehead. Wear your liberty crown at a Fourth of July barbecue or family party and celebrate freedom!
Fourth of July Fireworks Stamping
Create your own colorful fireworks with this craft activity for kids! Tape seven straws together. Then bend their ends outward and tape them into that starburst shape. Kids can dip their DIY stamper into colored paints and stamp their own fireworks displays. Create your own fireworks on parchment paper and hang it up to display at your family's Independence Day party. Kids can also stamp fireworks onto a white t-shirt and wear their fireworks-inspired clothing on the day!
Red, White, and Blue Slime
For this Fourth of July activity, you'll be making three batches of slime that yield endless fun! You'll need:
Clear Elmer's glue
Water
Food coloring in red, white, and blue
Glitter
Baking Soda
Saline Solution
Combine 1/2 cup of glue with 1/2 cup of water. Then add 1/2 teaspoon of baking soda, some drops of red food coloring, and glitter. Lastly, add 1/2 tablespoon of saline solution and mix until the solution becomes thick and pulls away from the bowl. Put a few drops of saline solution on your hands and knead the slime ball to improve the consistency. Repeat these steps to make your blue and white slime. Try twisting your colored slime balls together to create a patriotic ball of gooey fun!
Nothing says summer like having a party with Fourth of July activities! These crafts and activities for kids will teach them about the importance of the holiday and bring the whole family together for outdoor fun.
Resources
https://www.rd.com/advice/parenting/4th-of-july-10-fun-party-games/
https://kids.lovetoknow.com/wiki/4th_of_July_Games_for_Kids
https://www.parents.com/holiday/july-4th/fourth-of-july-party-ideas/