Baby's 1st Birthday Party Ideas
Make this milestone for your child one to remember with these party ideas for baby's 1st birthday. Your child's first birthday is a momentous occasion, and only comes once in a lifetime. Create a special birthday celebration that your whole family will remember, and capture it in photos, film, and personalized storybooks. While a first birthday party is an extra special occasion, it should also be stress-free and fun. These birthday party tips will help you plan for the big day and have time to enjoy every moment.
Baby's 1st Birthday Party Ideas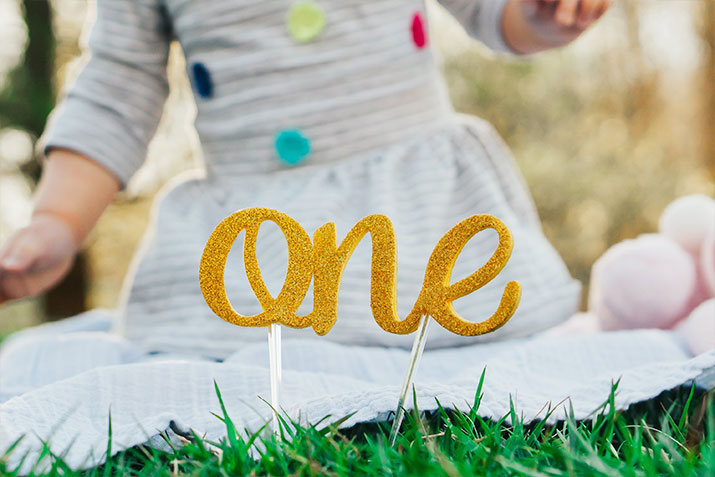 Decide on a cohesive baby birthday party theme.
Begin with a birthday party theme and the rest will easily follow. The party theme will determine the venue, decorations, birthday cake, and party food. Keep the theme relatively simple and have each element of the party tie back to the overarching idea.
Here are some 1st birthday party themes that are perfect for your baby's celebration:
Disney and Mickey Mouse: Mickey and his pals will make everyone smile! This theme is perfect for a birthday party for boys or girls. Decorate with balloons, polka dots, and personalized Disney storybooks that serve as decorations and perfect birthday party gifts for your baby.
Twinkle, Twinkle, Little Baby: This star-themed birthday party, based on the soothing lullaby, can easily be achieved with twinkling lights, star balloons, and paper stars hanging from the ceiling. Serve star-shaped sugar cookies dusted with glitter for a whimsical dessert.
Animal Palooza: Turn your house into a zoo with this animal-themed birthday party for baby! Use stuffed animals and animal balloons to decorate. Serve up animal crackers as an appetizer and put your baby in an adorable animal costume for cute photos.
Rainbow Baby Birthday: For parents of a rainbow baby, a first birthday party can mean even more. Decorate your party with rainbows, to remember where you have been and to celebrate the new life that brought you hope and love.
Under the Sea: Explore the wonders of the ocean with this underwater-themed birthday party. Decorate walls with white balloons to look like bubbles, and decorate the party table with coral, sea shells, and plastic fish that guests can take home for their kids' bubble baths! For the adults, serve an array of seafood on ice that party attendees can nibble on throughout the day.
Make a baby photo banner and "all about baby" chalkboard.
Greet guests at the party venue with a beautiful banner featuring photos of your baby, one for every month leading up to their one-year milestone. Along with the banner, create an "all about baby" chalkboard with information about your baby at one year old. Include information such as your baby's favorite food, favorite bedtime story, favorite song, most common expression, the thing that makes your baby laugh the most, and more. This is a sweet way to capture your little one's monthly highlights and a great way for guests to get to know your baby before the party begins.
Create a baby play zone area.
Designate a spot at the birthday party venue where babies can play safely. Use baby gates to section off the area and place soft blankets on the floor. Add fun toys for the babies to play with and keep the area supervised. This play space is perfect for parents who want to leave their baby for a bit as they mingle and grab food. Babies will love to play and explore in this safe area.
Schedule "nap time" during the day.
Chances are the birthday party may go long. If you are inviting family and friends (who likely have young children of their own) then you'll want to schedule some nap time so kids can replenish after a couple hours of excitement. This also gives the adults time to converse with each other. After the nap, your baby will be ready for birthday cake and presents!
Make a birthday party time capsule box of letters.
Create letter prompts that party guests can fill out. For example: What is one thing you wish for baby Jonah when he grows up? What words of encouragement would you like to send him? Have guests write their answers and drop them into the time capsule box. Years later, present this box to your child and have fun reading the loving notes. This box of memories will be a special keepsake to treasure.
Serve easy finger foods for birthday party guests.
You might be wondering what you should serve for a baby's first birthday party. Stick with simple and easy foods that adults and toddlers can nibble on, such as finger sandwiches, fruit, crackers, cheese, yogurt, applesauce, mini muffins, cupcakes, and bagels. If guests bring their kids, they will thank you for the child-friendly snack foods.
Present baby with a "smash cake" and be ready to take photos!
One of the best ways to celebrate a first birthday party is with a smash cake. This type of cake received its namesake because it is small, made especially for your baby, and easy for baby to smash into with both fists. Let your little one dig into their very first birthday cake and make a terrific mess—all captured on camera, of course!
Leave birthday present opening for after the party and create a gift registry.
Since the baby can't open the birthday gifts, leave the present opening for when the party is over. This will keep your party to a manageable length of time. After the party, set aside some time to write thank you cards for all the birthday gifts. An easy way to provide guests with birthday gift ideas is to create a baby gift registry. Consider gifts that will be keepsakes to treasure, like personalized birthday books. A custom storybook such as My Very Happy Birthday or My Superfantastic Birthday Adventure features the child's name throughout the story and their photo on the dedication page. Personalized birthday presents like children's storybooks will last for years and capture special memories.
Don't fret if you are wondering, "How do I celebrate my baby's 1st birthday?" These birthday party ideas will help you make baby's big day extra special!
Resources:
http://redtri.com/bump-baby/first-birthday-party-tips/
https://www.savvymom.ca/article/9-finger-foods-for-a-babys-first-birthday-party/