Breastfeeding Tips for New Moms
Navigate the wonders of motherhood with these breastfeeding tips for new moms. One of your first instincts as a new parent is to nurture your little one. If you have decided to breastfeed your baby, you might discover some bumps in the road. Often babies will breastfeed about eight times in a 24-hour period, with each feed lasting ten to twenty minutes. With feedings occurring frequently, we hope these tips will help you breastfeed your baby. Celebrate this beautiful time together and relish every moment!
Breastfeeding Tips for New Moms
Consult your nurse for advice before leaving the hospital.
Nurses are our best resource for collecting tips and tricks for breastfeeding before leaving the hospital. Take advantage and ask for some advice or perhaps a breastfeeding tutorial. Asking for advice from a nurse might be difficult. Don't feel like you must tackle every aspect of motherhood perfectly or do it alone. If your baby is struggling to latch on, see if a nurse can observe and guide you. Practice and patience are key!
Wear a nursing bra to help with leakage.
In the first weeks of breastfeeding, it is common for breast milk to leak from your breasts. For some moms, the amount is small but for others it can be a substantial pool of liquid. Leaking is great sign that you are producing enough milk! But you also don't want to leak through your shirts or soak your bed. Find a comfortable nursing bra that will prevent breast milk from leaking through and simultaneously support your sore breasts. Breastfeeding your baby at night can also help slow the flow of milk before bedtime.
Make sure you and baby are both comfortable.
For best breastfeeding results, ensure that you and your baby are comfortable and stress-free. Prop yourself with pillows and nestle baby against your body, with their mouth directly across from the nipple.
Go at your baby's pace.
While you can guide your baby to the spot, you should also see how your baby wants to feed—maybe they want to angle their head, move side to side, or take lots of breaks. Go at your baby's pace and let him or her dictate how long or how often they want to feed. After the first nipple, try burping your baby and offer the second breast. If your baby only wants to feed on one nipple, offer the other one at the next feed or pump that breast to relieve pressure. Breasts can become firm and uncomfortable when they fill with milk.
Supplement breastfeeding with a breast pump.
Since moms can't always breastfeed on command at all hours of the day, a breast pump is a useful resource for having enough milk. Try pumping in the morning, when milk is plentiful, or in between feedings. You can use this extra milk to feed and give your sore nipples a break, allowing them to heal. These extra bottles will also come in handy when traveling.
Know that cluster feeding and breastfeeding pain are normal.
Breastfeeding can be very painful—this isn't discussed as often, but it should be. Over time, breastfeeding will get better, as both you and baby learn how to function as a nurturing unit! Babies can sometimes bite the nipple, chew as they feed, or struggle to latch on properly—we don't say this to alarm you but be prepared for one or all of these. If you are experiencing extreme pain during feeds, try to experiment with different positions so your baby can latch on easily. If the pain persists, consult a lactation specialist to problem-solve the issue—no one should have to ignore breast pain!
In addition, many babies cluster feed. Cluster feeding is when babies bunch feeds close together at certain times of day. As a new mom, this can be an exhausting challenge. To cope with cluster feeds, track your baby's feeding patterns and plan your day around these long feeds. Often your baby will take a long nap afterward, allowing you to get some rest as well.
Hydrate and eat healthy.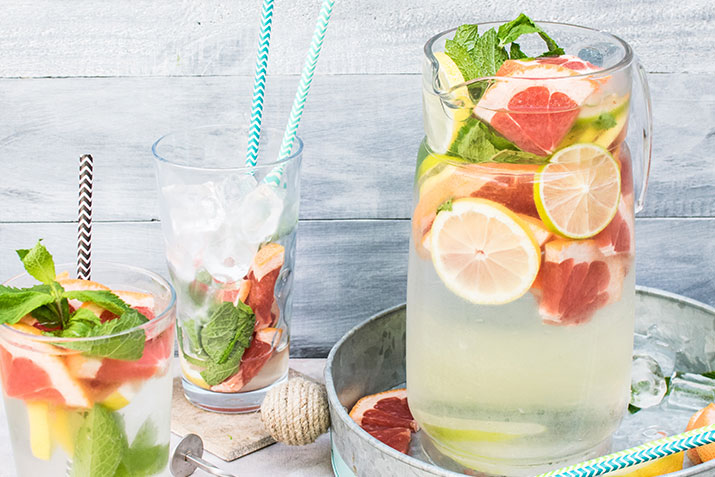 Give your body the healthy nutrients it needs to produce milk for your baby. Drink lots of water and eat a various assortment of protein, vegetables, and legumes. This will help boost your energy level as well, which can be depleted from sleepless nights.
Breastfeeding is a beautiful time for momma and baby, but it does come with its challenges. These breastfeeding tips for new moms can help you on your journey. But above all, we want to say this: you are never required or expected to breastfeed. Make the best choice for you and your baby. Every experience is different. Formula can be another great option for new parents. Discover the best path so that both you and baby can be healthy and happy.
Resources:
https://www.chop.edu/pages/breastfeeding-tips-beginners
https://babygooroo.com/articles/how-can-i-keep-my-breasts-from-leaking
https://www.bellybelly.com.au/breastfeeding/cluster-feeding-tips/
https://www.mayoclinic.org/healthy-lifestyle/infant-and-toddler-health/in-depth/breast-feeding/art-20047138