7 Ways to Celebrate a Baby's First Halloween
Your baby's first Halloween is a spook-tacular milestone and worthy of celebrating! So we've put together some tips for making this first Halloween extra special. Your baby may be too little for all the Halloween activities. But there's plenty to do with your baby to have a frightfully good time in October. Your baby will love all the fun, silly things to do this fall. Enjoy these family Halloween festivities and make precious memories together.
7 Ways to Celebrate a Baby's First Halloween
Find the cutest baby Halloween costume.
Your baby's first Halloween costume will be remembered for years to come! There are so many cute baby costumes to choose from. Celebrate the big day in style and pick a costume for baby, or one that coordinates with the whole family.
Here are some baby's first Halloween costume ideas:
Cuddly Cute Lion
Fuzzy Bumble Bee
Baby Dragon
Puppy
Sunflower
Monkey
Feathered Chicken
Magical Unicorn
Koala (turn your baby sling into a Koala costume)
Colorful Caterpillar
Here are some family Halloween costume ideas with baby:
Baby Shark, Mommy Shark, and Daddy Shark (doo doo doo doo doo doo!) – based on the favorite song.

If you go trick or treating, sing the song at every door and do the hand motions. Baby will love the song-and-dance time!

Aladdin, Jasmine and Abu.

Dress your little one in a cute monkey costume! Perfect to coordinate with the new live action Disney movie Aladdin.

Ghostbusters

Dress up as your favorite Ghostbuster and wrap your baby in a Slimer outfit or baby Stay Puft costume!

Star Wars Jedi and Baby Yoda

Babies will love seeing the lightsabers glow in the dark!

NASA Astronauts

This year was the 50th anniversary of the Apollo 11 moon landing! Celebrate by dressing up your baby as a cute little astronaut.

Sushi Family Costume

Turn your baby into a super cute sushi roll, and dress yourselves as soy sauce and a sushi chef!

Toy Story 4: Woody, Jessie, and Forky

Dress up your baby as the newest member of the Toy Story gang and reach for the sky this Halloween!
Stage a 'baby's first Halloween' photo shoot.
Capture these sweet memories by holding a baby's 1st Halloween photo shoot in your house! Create a garland or sign that says, "Baby's First Halloween" and take adorable photos with your little one. Another popular photo idea is to put baby in a pumpkin. Cut the top off a large pumpkin and scoop out the inside. You can also add some foam on the bottom for a more comfortable seat. Cut holes for your baby's legs. Then carefully place your baby inside. With the words, "My First Halloween" written on the pumpkin in black marker, this Halloween photo idea makes an adorable photo keepsake!
Host a baby Halloween party.
Gather your friends, family, and neighbors for a baby's first Halloween party! There's nothing cuter than a group of babies in costume, surrounded by pumpkins, boo-tiful garlands, and hay bales. Serve up some pumpkin baby food as a Halloween treat and play kid-friendly Halloween music. You can also create a Halloween sensory bin for babies to play. Put leaves, mini pumpkins, and rice (perhaps colored orange with food dye) into a plastic bin. Babies will love touching and feeling the different textures with their hands. You can also add a scooper, for babies to scoop up the rice!
Attend a zoo boo event.
Most state zoos host a "zoo boo" event, for kids to celebrate Halloween. This kid-friendly, not-so-scary Halloween activity is perfect for babies. This event usually includes trick-or-treating, a kids' dance party, children's games and activities, and Halloween photo opps.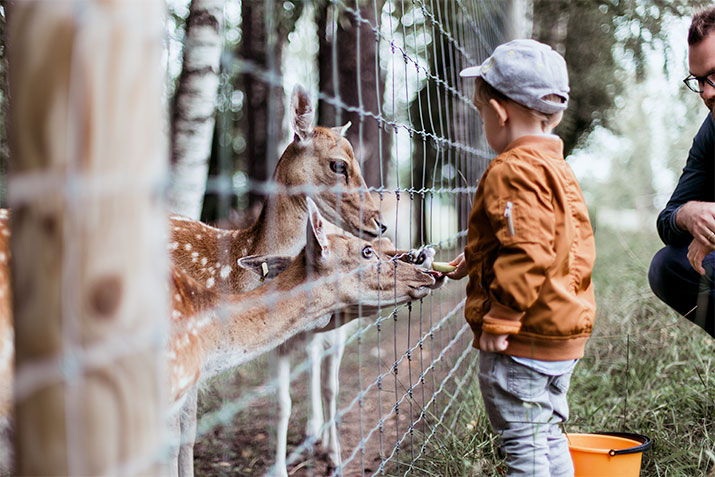 Have a Halloween storytime for baby.
Hold a Halloween-themed storytime for baby at home or attend a library event with kid-friendly storybooks. For a more engaging experience, try personalized storybooks for baby that feature their name throughout the story! A custom storybook such as My Very Own Fairy Tale transports your little one to a magical fairy world—and might even give you Halloween costume inspo.
Visit an apple orchard and pumpkin patch.
Bring baby to the apple orchard to pick out some sweet treats and carving pumpkins! Your child will love touching and feeling the hay bales, apples, pumpkins, corn, and crunchy leaves. Pick out some fresh apples to make homemade apple sauce when you come home. Bring a blanket to have a picnic at the orchard—and a place for your baby to nap. Some apple orchards also have a petting zoo, where your baby can see and touch new animals.
Make a baby's 1st Halloween scrapbook.
Your baby can still participate in the Halloween fun by helping create a baby's 1st Halloween scrapbook! Decorate pages with your baby's handprints. You can draw on the handprints to make Halloween-themed objects and animals like a bat with handprint wings, a black cat, a spider, a pumpkin with a happy face, and a ghost. Leave room on the scrapbook pages to add photos of your baby in Halloween costume.