7 Kids' Reading Activities to Enjoy in the Fall
Enjoy the fall with these fun reading activities for kids! As your kids go back to school, help them with reading comprehension by turning practice into a game. Sounding out letters, word matching, and crafting are all creative ways to help children learn to read. Don't let reading become a tiresome chore. Instead, incorporate reading practice into your day-to-day fun. Reading helps children feel more confident and ignites their creative imaginations. Try these children's reading games and activities for the fall and help your little reader grow.
7 Kids' Reading Activities to Enjoy in the Fall
Fall Rhyming Word Game
Write fall-themed words on note cards and have your child sound out the word on the card. Try words like leaf, apple, fall, cider, corn, hay, and chilly. Then find a word to rhyme the one on the card. Have fun discovering how many words will rhyme and turn this children's reading activity into a joyful game! This is an easy activity you can do at home, in the car, or before an after-school activity.
Word to Picture Matching Game
Help your child recognize and spell out words by matching the word to the picture! Draw pictures on six flash cards. Try drawing fall-themed pictures, or things you would see in the fall. Then write the corresponding words on the other six flash cards. Have your child choose a picture and then pick the word that matches. Sound out the word together or spell the word letter by letter to practice reading words. This kids' reading activity will help with word recognition and spelling.
Kids' Craft Activity: Fall Alphabet Tree
Create an alphabet tree with fall leaves that will help your child learn how to read! Cut a rectangle from brown construction paper and glue it to your background paper. Cut long, brown rectangle pieces as your tree branches and glue them around the tree trunk. Cut small squares from red, yellow, and orange pieces of paper—these are your colored leaves! Write each letter of the alphabet on the pieces of paper and glue them around your branches. Kids will have fun crafting their own fall tree and learning their letters at the same time! Hang this alphabet tree in your child's playroom or bedroom and use it whenever you are practicing reading at home.
Reading Practice with Personalized Storybooks
Children's personalized storybooks are engaging tools for helping children learn how to read. With their name and photo incorporated into the story and illustrations, kids will be eager to read the story and practice their words! A custom name book such as My Very Own Name teaches kids how to spell and read their own names. For more than one child, try a personalized book for siblings such as We Go Together Like… and teach both children together! Personalized picture books that are made special for the child offer a personal, inviting reading experience. Try a custom book the next time you want to practice reading at home or on the go!
Build a Sentence Game for Fall
Learn how to put sentences together and build your reading skills! When your child knows how to structure a full sentence, they will also be able to recognize patterns as they read. Tie in fall activities to this game—perhaps ones you have done or plan to do as a family—to make this activity relatable and interesting. Come up with sentences that relate to fall activities such as: I drink apple cider; My feet crunch fall leaves; We make caramel apples; There is a chilly wind; I like the colorful trees; etc. Split up the sentences on note cards and have your child put different sentences together. Have fun with this kids' game and try combing the words in different ways to make new sentences! As a reward for finishing the activity, spend family time doing one of the activities you listed. This children's reading game provides positive incentive for kids to learn and practice.
Create Words with Building Blocks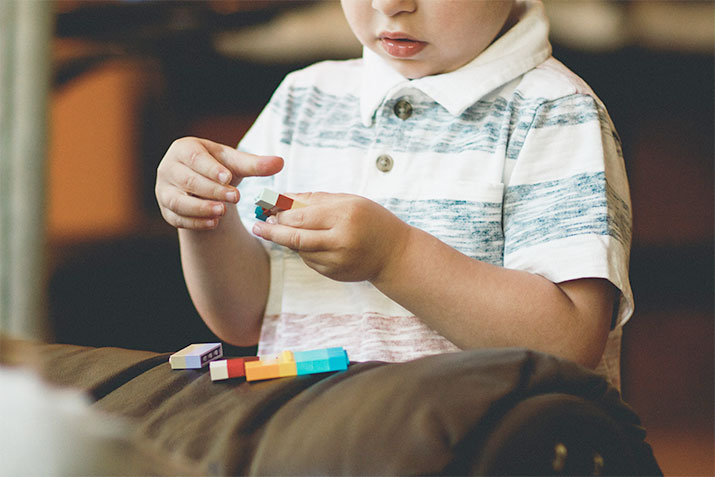 Have your child construct words out of building blocks, like LEGOS®. Connect the blocks together to spell different words. Try doing this activity outside on a warmer fall day and spell the things that you see. This hands-on activity encourages kids to be creative while learning how to read and spell. Perfect for struggling readers, this activity teaches literacy outside conventional methods. Kids may be shy, lack confidence, or struggle with words on a page. Think outside the book and make reading fun by playing with blocks!
Letter Blend Learning with Twister
Kids are always wriggling and moving around. To help them focus their energy, try this literacy learning version of Twister! Put letters on the colored circles of the Twister game. For kids learning letter blends, incorporate some of those on the circles such as fl, br, pl, ch, and so on. Kids will love twisting in odd shapes to make each word. Give your child an additional challenge and have them spell words only associated with fall. Laugh and learn with this crazy fun reading game!
Resources:
https://www.education.com/activity/ela/reading/?page=3
https://frugalfun4boys.com/hands-on-activities-beginning-readers/