5 Free Fall Activities for Kids in October
October is a perfect month to spend quality time as a family! Try these free fall activities for kids and enjoy all this season has to offer. October is a time to enjoy the crisp fresh air, make a few fall crafts, and cuddle up on the couch reading together. There are so many fun children's activities you can enjoy without spending a penny. Fill your calendar with family fun this fall!
5 Free Fall Activities for Kids in October
Kid-Friendly Halloween Movie Night
Curl up on the couch and watch your favorite Halloween movies! Save on a movie theater ticket and turn your own family room into a cozy movie hangout.
We've put together a list of the best kid-friendly Halloween movies for your next fall family activity:
Casper
Hocus Pocus
The Nightmare Before Christmas
Halloweentown
Goosebumps
Toy Story of Terror
Hotel Transylvania
Coraline
Pooh's Heffalump Halloween Movie
Monsters, Inc.
Harry Potter and the Sorcerer's Stone
Fall Baking as a Family
Bake some sweet fall treats in the kitchen! This fall activity teaches kids about measurements, as they help measure the ingredients. Baking is a perfect way to engage the whole family and make special memories. Celebrate your love of baking together further with a personalized storybook like Baking Cookies Together. This custom storybook includes family names, a family photo, and your favorite cookie recipe!
We've compiled some favorite fall recipes below for your family to bake together:
Pumpkin bars
Pumpkin pie
Apple crisp
Cinnamon apple muffins
Scotcheroos
S'mores brownies
Pumpkin-shaped sugar cookies
Chocolate pecan Bundt cake
Family Road Trip Adventure
Hop in the car and take a fun family road trip—around your neighborhood or to a city a couple of hours away! See the beautiful fall leaves; take pit stops to walk along a nature trail; and take pictures along the way to capture your family memories. Collect leaves, acorns, sticks, and rocks to make fall or Halloween crafts at home. Bring fun things for kids to do in the car, such as the personalized storybook My U.S.A. Road Trip with scratch-off map. This storybook lets kids read about all fifty states and scratch off where they've visited!
Pumpkin Carving Family Game
Turn your pumpkin carving into a fun family game! Write different Halloween-themed animals and characters on pieces of paper, such as: monster, bat, vampire, pirate, ghost, etc. Kids will draw one paper and decorate their pumpkin in that theme! For little ones too small for carving, have them draw on the pumpkin with markers. You can also pre-cut pumpkins and have kids decorate with glitter glue, markers, and construction paper to match their pumpkin to the theme.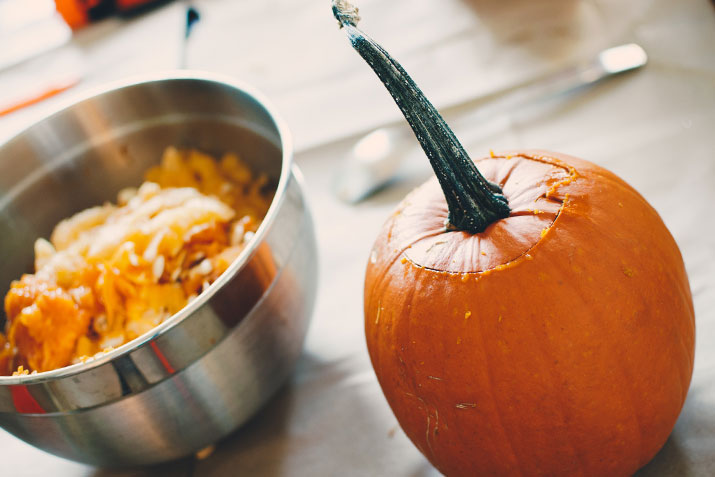 Apple Cider and Cinnamon Stick Fall Craft Activity
Enjoy a mug of hot apple cider and add cinnamon sticks for a kick of spice! When you've finished your cider, use your leftover cinnamon sticks for this children's craft activity. Take five cinnamon sticks and glue them at the edges, overlapping, to form a star shape. Kids can then glue mini pine cones to the edge of their star and attach a ribbon for hanging. This easy craft will make your kid's room spell like fall! It also makes a perfect fall or Christmas decoration.
Try these free fall activities for kids this fall and have endless family fun!