Holiday Shopping Dos and Don'ts for a Baby
If you're wondering what to get a baby for their first Christmas, check out these holiday shopping dos and don'ts. These Christmas shopping tips will help you find the perfect Christmas gift for baby! When holiday shopping, think about cost, creativity, baby safety, and what parents might need now versus months from now. But most of all, enjoy the spirit of the season! A special bundle of joy deserves a special Christmas present. We hope you'll get inspired with these holiday shopping tips.
Holiday Shopping Dos and Don'ts for a Baby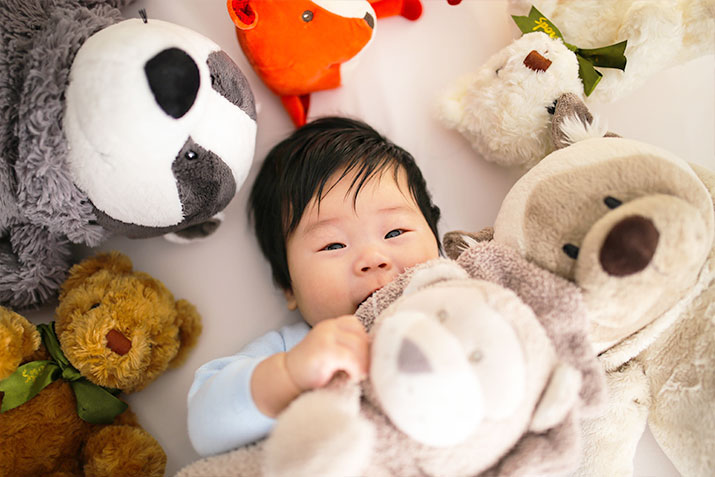 Do: Think outside the box when Christmas shopping for a baby.
Find inspiration this holiday season when shopping for a newborn! Look for creative, unique gifts that will deliver smiles of joy and delight. Here are some unique Christmas gift ideas for a baby. Consider a set of personalized baby books, featuring the child's name and photo! A custom book like Goodnight Little Me or A Christmas Dream for Me is a sweet keepsake for parent and child. Personalized books are creative Christmas gifts that will be saved and cherished as the child grows older. For the child's stocking, try personalized ornament stocking stuffers. Custom ornaments with the child's name and photo will be lasting decorations to put up every year. Other creative baby gift ideas include:
Homemade fleece blanket (see our tutorial on how to make your own)
Diaper gift pack taped into the shape of a tree
12 Days of Christmas onesies
Embroidered rattle for a baby's 1st Christmas
Red or green baby sling, so mom and baby can show off their festive spirit!
Check out the I See Me! Christmas Gift Guide for Baby for more ideas!
Don't: Spend too much on Christmas gifts for the baby.
We know it's fun to shop for a new baby! But don't break the bank holiday shopping for little ones. While babies do deserve precious gifts, they also grow fast and wear through toys easily. Look for smaller items or a gift that will last for months, like a stretchy knit hat.
Do: DIY some Christmas gifts for baby.
Make your own Christmas presents for a little one. These gifts are creative and budget-friendly! Homemade gifts come from the heart. Your memory of making the gift will be just as special as giving it. And parents will love the thought and effort you put into the present.
Don't: Purchase items that are gender specific.
Avoid shopping for Christmas gifts that sway one gender or another. It's usually best to shop gender neutral. Parents may not want emphatically gendered gifts. And any gender-neutral gift can be shared and reused among siblings, such as baby clothes!
Do: Shop for the months ahead. Babies grow fast!
A baby will likely double his or her birth weight by about 5 months old and triple birth weight in a year! This means any clothing items will be worn for short periods, especially as the seasons change. Shop for gifts that will fit the baby months from Christmas—even spring clothing. Parents probably have a lot of winter gear for their little one already, but they may not have any spring or summer clothing yet. It's fun to get Christmas gifts for the here and now. But think about the baby's growth and factor that into your holiday shopping.
Don't: Buy all toys for the baby.
Toys are certainly fun for babies. Playtime is a must, so babies can develop hand-eye coordination. But there are so many other gifts that help a baby's physical and mental development as well as comfort. Gifts such as personalized baby books are long-lasting and entertaining for a new baby. Consider clothing, blankets, photo books or decorations for a baby's room (pictures, framed family photos, custom name signs, etc.).
Do: Always keep baby safety in mind.
Remember to do your research and read reviews about baby products. You wouldn't want to give a gift, only to find out the item had been recalled due to poor construction or harmful materials.
Follow these Christmas shopping ideas and find precious gifts for a baby. These cute gifts will help you celebrate a baby's first Christmas. Give the little one special gifts that mom and child will love!
Resources:
https://www.mayoclinic.org/healthy-lifestyle/infant-and-toddler-health/expert-answers/infant-growth/faq-20058037