How to Plan an Epic Family Christmas
If you're looking to plan an epic family Christmas, try these festive ideas that are perfect for kids. Christmas is a very merry time to spend quality family time together and make precious memories. These family Christmas activities have something for everyone all December long! And you don't need to plan far in advance to make this Christmas magical. Each children's Christmas activity is simple to do and fun for every family member. Incorporate some of these family Christmas ideas into your December plans and make some new family Christmas traditions!
How to Plan an Epic Family Christmas
Plan a hot cocoa and Christmas decorating party.
Celebrate the holidays with your family and enjoy hot cocoa while decorating the house! This festive family activity brings everyone together for an evening of laughter and fun. Kids will love participating in the decorating, especially because Santa will see their special touches! A lot of the decorations you can make yourself. Kids can craft garlands from paper or popcorn and write letters to Santa to put on the fridge. Play Christmas music as you take hot cocoa breaks—extra marshmallows. Enjoy the true meaning of Christmas and make precious memories together.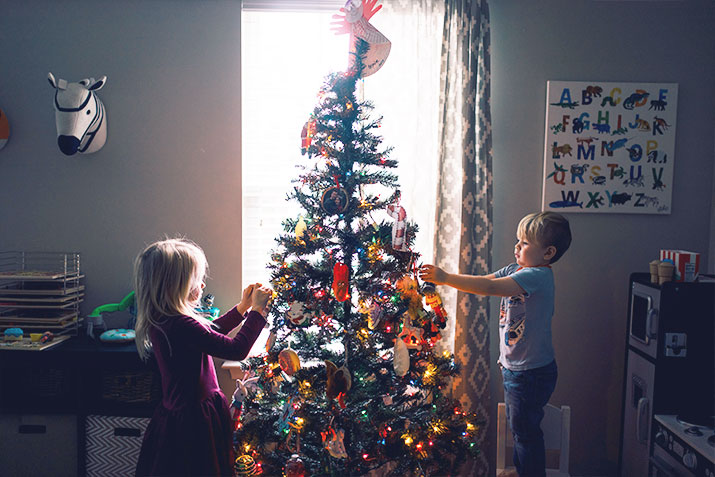 Take a family shopping trip and discover gifts for Santa's list!
Discover what your kids want this holiday and get them excited for the Christmas season with a family shopping trip. Kids will love that you are taking notes for Santa! As you browse, enjoy the mall's other amenities. Enjoy an ice cream or chocolate chip cookie. Visit Santa at his workshop for a picture (and maybe mom or dad can grab a quick massage while the other waits in line). Take a shopping break at the mall's play area—where kids can expend extra energy. It's a delightful day of fun, even if the weather is frightful!
Bake Christmas cookies and munch on your goodies during Christmas storytime.
Spend the day baking delicious Christmas cookies—snickerdoodle, frosted sugar, or chocolate peppermint to name a few!—and snack on your baked goods during a Christmas book storytime. Snuggle under fuzzy blankets with a plate of warm, gooey cookies and rest after all the baking fun. You can also remember your family baking day with a personalized children's book such as Baking Cookies Together—include your favorite cookie recipe in the back! For a unique twist on storytime, try a personalized children's book that has your child's name and photo inside such as My Night Before Christmas or A Christmas Dream for Me. With delicious cookies and a few custom Christmas books that will surprise and delight your kids, this Christmas will be unforgettable!
Make your own Santa's workshop in the North Pole and watch Christmas movies.
Take family movie night to the next level by watching your favorite Christmas movie inside a DIY Santa's workshop! Using a big cardboard box, kids can craft their own Santa's workshop in the North Pole. Parents can assist cutting out windows on all sides of the box while kids decorate the outside. Use cotton balls and polyester fluff to add "snow" around the house and windows. Cut paper snowflakes and decorate the outside and roof. Once complete, kids can sit inside and watch their favorite Christmas movie from the windows. This children's Christmas craft brings the whole family together for holly, jolly fun.
Go ice skating in your pajamas.
For some reason, any activity in your pajamas is more fun and exciting! Go ice skating as a family and show off your Christmas pajamas. Make sure to wear a coat, hat, and mittens too if the ice-skating rink is outdoors. But if you're inside, wear those pajamas loud and proud! Kids will love the freedom of having a topsy-turvy day out.
Make your own ugly Christmas sweaters and take family pictures.
Have a funny family Christmas with homemade ugly Christmas sweaters! DIY your own ugly sweater using fabric paint, glitter, strings of plastic Christmas lights, and any other craft item! Once your kids have put a unique stamp on their holiday sweaters, capture the hilarious moment by taking family photos. Preserve your family memories by putting your photos on a personalized Christmas ornament or including them in a personalized children's storybook. Look back on your favorite family Christmas photos and remember the joy and laughter!
Drive around your neighborhood looking at Christmas lights.
Crank up the Christmas tunes in your car and take in the glimmering Christmas lights around the neighborhood. If you don't want to drive too far or make young kids spend too much time in the car, a quick neighborhood drive is a perfect family Christmas activity. Visiting holiday light displays can turn into a fun winter tradition. Nothing makes Christmas feel more magical than taking in spectacular, glittering lights!
These family Christmas activities will get you in the spirit of Christmas! Make this holiday special and have an epic family Christmas.