Plan a Fun Kids' Valentine's Day Party
If you are looking to plan a fun kids' Valentine's Day party, check out these tips and suggestions! These party tips include everything you'll need for party decorations, food, craft ideas, and Valentine's Day games. Valentine's Day is all about spreading love and kindness. Celebrate by throwing a joyous party to spend time together!  Kids and grownups will love your creative party ideas.
How to Plan a Fun Kids' Valentine's Day Party
Valentine's Day Party Decoration Ideas
Try some of these decoration ideas to plan a festive Valentine's day party!
Paper Heart Garland
Cut hearts from red and pink construction paper and poke a hole in the center. Connect them with string and hang them around your party room! This children's craft is simple and fun to make. Handmade decorations get your kids involved in the party planning fun and allow you to customize your space!
Heart-Shaped Wreath
Create a colorful wreath to welcome guests at the door or to hang in your party space. Cut a heart shape out of cardboard, about 3 inches in width. Then glue small squares of red and pink tissue paper across the cardboard until covered. Glue a string on the back for hanging. This is an easy Valentine's Day activity for kids to do.
Place Card Valentines
Show your party guests where they should sit—at the food and craft tables—with these custom place cards that also look like Valentines! Decorate 4-inch card stock with construction paper, lace, glitter, and markers. Include a special message such as: Happy Valentine's Day [child's name]! or You are Simply Amazing [child's name]! The child can take their place card home as a fun party favor Valentine.
Balloons Galore
Fill up a dozen or so red, white, and pink balloons with helium and cover your ceiling space with the colorful decorations! When the party is over, kids can take home a balloon party favor.
Valentine Party Food for Kids
Sweeten up your party with these Valentine's day party foods, perfect for kiddos to much on.
Heart-Shaped Pizza
Make your own heart-shaped pizza with different toppings. Pizza is easy for little hands to grab and eat. Turn this food into a fun party activity by having kids make their own mini pizzas.
I Heart Grilled Cheese
Use a heart-shaped cookie cutter to cut grilled cheese squares into heart shapes. Kids will love this uniquely shaped finger food. You can also serve tomato soup in small cups for dipping. A perfect meal in February, especially if you live in colder climates!
Valentine's Day Heart Sushi
Offer a creative and vegetarian-friendly alternative with heart-shaped sushi! Shape your rice, lay a thin layer of salmon or tuna on top, and keep it all contained with seaweed.
Chocolate-Dipped Fruit
Nothing says Valentine's Day more than chocolate. Melt chocolate in a bowl and have kids dip their fruit in it. This is easier and less messy than a chocolate fountain, but definitely a party-pleaser! For a daring alternative, try offering bacon pieces on toothpicks. Bacon and chocolate makes a sweet and savory combo.
Frosted Heart Sugar Cookies
Kids can frost and decorate sugar cookies with M&Ms, sprinkles, and red or pink frosting.
Valentine's Day Coloring Activities and Games
Get your party guests moving and having fun with these Valentine's Day coloring activities and games!
DIY Coloring Pages
Instead of buying coloring books for the kids, you can make your own. With a black marker, draw hearts with sweet messages inside and animals holding hearts. Keep the outlines simple, so young kids can color inside the lines.
Heart-Felt Bookmarks
Make your own felt bookmark to use at storytime and bedtime! Cut a larger heart out of red felt. Then cut a smaller heart from pink felt. Glue the pink heart onto the red heart. Finally, attach the heart to a popsicle stick using hot glue (parental assistance required). Kids can then color the popsicle stick with markers or write Happy Valentine's Day on the front. These bookmarks are perfect to use during a Valentine-themed storytime, with personalized books such as My Little Lovebug or Who Loves Me?.
Bee Mine Valentine Craft
Have kids make their own bumble bee on a stick they can fly around! With yellow and black construction paper, cut out the body, head, stripes, and antennae. Draw the face of your bee and a heart on the body that says, "Bee Mine." Glue the paper bee onto a long craft stick. As an extra craft activity, make a paper flower your bee can land on.
Bee Mine Tag Game
Don't let the bee land on your flower! Kids turn into busy little bees running around, trying to avoid being tagged! The child who is "it" will hold their Bee Mine craft bee and run around. The other kids will hold their craft flowers and run to avoid being chosen. When another child is tagged, they exchange their craft sticks (a bee for a flower) and resume play. Keep an eye on the buzzing bee as it changes hands and avoid being tagged!
Candy Heart Stack 'Em Game
See who can make the tallest stack of candy hearts in thirty seconds! This Valentine's Day game is pretty general, so try using different types of candy to make it more challenging. The best part? Eat your candy pieces when the game is over!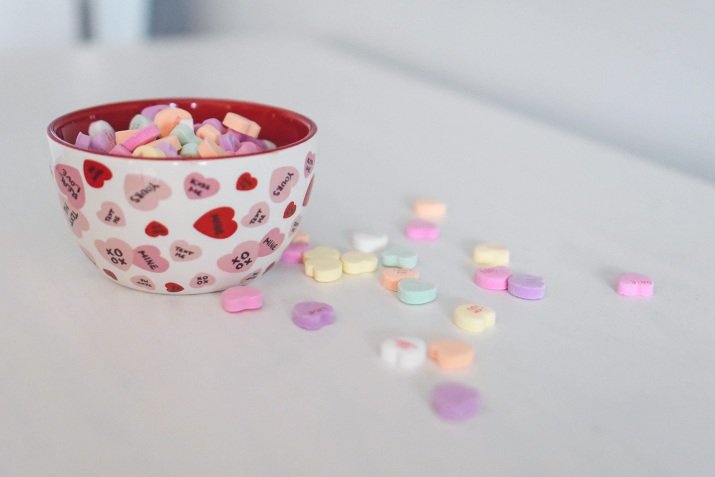 Cupid Says Game
Turn the game "Simon Says" into a fun Valentine-themed game! Give actions that fit the holiday such as: Blow a kiss; hug yourself; make a heart with your hands. Get kids moving and spreading the love with the "Cupid Says" game!
Pin Cupid's Arrow on the Heart
This game is just like "Pin the Tail on the Donkey" but with Cupid's arrow and a heart as the target! Create an arrow from construction paper and a large heart with a bullseye in the center that you tape to a wall. Will Cupid's arrow hit its mark? Blindfold party guests, spin them around, and see if they can pin the arrow to the heart's bullseye!
With these party planning tips and fun games, you will throw an awesome Valentine's Day party for kids!
Resources:
https://www.thespruce.com/valentine-party-games-for-kids-1358219