How to Teach Your Child About Black History Month
Teach your child about Black History Month with fun and educational lessons and activities. It is important for kids to learn about our country's history, to become more informed about the world. Black history is a crucial part of national history. Help your child learn about the accomplishments of black people throughout history and in doing so, become more knowledgeable and appreciative of their struggles and successes. Lessons in Black History Month will also lead to important discussions of American historical events such as slavery and civil rights, which still impact society today. Expand your child's view of the world and discover ways to celebrate and honor this important month every year!
Why do we celebrate Black History Month?
It's important to first discuss why we celebrate Black History Month. Black History Month is an annual celebration, recognizing achievements by African Americans. This event first formed from "Negro History Week" in 1962 and was created, in part, by historian Carter G. Woodson. By the late 1960s, Negro History Week had evolved into Black History Month on many college campuses due, in part, to the civil rights movement and a growing black identity. In 1976, President Gerald Ford officially recognized Black History Month and every U.S. president has designated February as such ever since.
Black History Month is a time to celebrate not only African American achievements, but to acknowledge and celebrate those whose successes have been overlooked or received too little recognition. By emphasizing the importance of this month to your child, he or she will learn about history, society, and their social environment.
How to teach your child about Black History Month
Teaching your child about this month can be fun and educational. Turn lessons into interactive activities so they can play and learn!
1. Research an important person through history and do a corresponding drawing project.
Choose an important African American in history to research together. In addition to Martin Luther King Jr. and Rosa Parks, try selecting an individual that hasn't received as much global recognition. For example, Katherine Coleman Goble Johnson was an American mathematician and NASA employee whose orbital calculations were essential for the space flight of Alan Shepard, the first American in space.
After researching, kids can create a fun art project that ties into their historical person. In this case, your child can draw a rocket ship flying into space or draw a portrait based on research photos.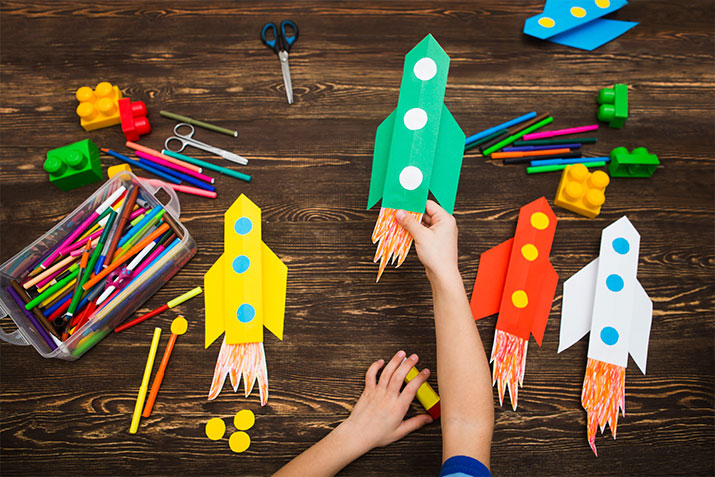 2. Craft a historical timeline of important people and events.
This Black History Month craft activity for kids makes learning interactive and creative! Add your important people and events to note cards, with dates at the top. Then glue them to a string, so you can hang your timeline in a bedroom, on a mantle, or in a learning space for the month of February. Discover important African Americans in history you never knew!
For example, Dr. Rebecca Lee Crumpler, born in 1831, was the first African-American woman physician in the United States. Anna Arnold Hedgeman was the first African American graduate of Hamline University in 1922 and went on to become a civic leader. There are so many important people to learn about!
3. Turn to pop culture to supplement lessons.
Films, documentaries, TV series, and music are all fun ways to introduce important African American figures to your kids. For example, if you are researching Katherine Coleman Goble Johnson, watch the movie Hidden Figures to experience a visual representation of her life and accomplishments. Although a loose interpretation, the film recognizes Katherine's talents and can provoke further discussion about African Americans at NASA and their crucial roles.
4. Learn about important African American inventors and then invent something yourself!
Choose an African American inventor and then make your own invention! As an example, Garrett Morgan was the inventor of one of the first traffic lights! The child of two former slaves, Morgan was born in Kentucky in 1877. His traffic signal idea added the yellow "warning" sign between "go" and "stop" so drivers had time to clear the intersection before others tried crossing. The three-position traffic light is a crucial invention that we use today!
When you are done learning, try making your own invention. See if you can craft a boat from paper plates or a bridge from popsicle sticks. Or try making your own traffic light with different colors!
5. Learn about racial diversity through picture book storytime.
Children's storybooks are fun and educational, introducing concepts like racial diversity. Make a list of picture books to read during Black History Month to introduce important concepts, people, and events to your child. If you are seeking more diverse books for your own family, personalized children's storybooks allow you to personalize the name, photo, skin tone, and hair color of the illustrated child in the book! A custom book such as We Go Together Like… celebrates two dynamic duo friends or siblings, with skin tone and hair color options. Create a keepsake gift for two friends, perhaps of a different race or ethnicity, and celebrate their beautiful relationship!
Most kindergartners have likely heard of Dr. Martin Luther King, Jr. at school. Help your kids learn and grow by teaching them about important historical figures and events throughout the month of February. We hope these ideas spark a month of discovery and learning.
Resources:
https://www.history.com/topics/black-history/black-history-month
https://www.marieclaire.com/culture/news/g4431/black-history-month-unsung-heroes/?slide=1
https://www.history.com/this-day-in-history/garrett-morgan-patents-three-position-traffic-signal