Creative Ways to Celebrate Baby's First Easter
A baby's first Easter is a special occasion for new parents. Make sure to mark this important milestone with creative ways to celebrate a baby's first Easter. Capture every moment and spend quality time together as a new family. Your child will love looking back at photos and remembering the time you spent together.
Creative Ways to Celebrate a Baby's First Easter
Dress your baby in Easter clothes or in an Easter costume and have a fun photo shoot.
Mark this important milestone of a baby's first Easter with a fun photo shoot at your home! Dress up baby in a colorful Easter outfit or a matching family outfit for a festive family photo. Try dressing your baby in a themed costume for a more comical photo shoot. Here are some Easter costume ideas:
Nestle your baby in a nest using fake grass and plastic eggs.
Put your baby in a flower hat and prop them up in a flower pot.
Dress your baby in rabbit ears and hang a carrot garland in the background.
Place baby next to a letter board that says: The Easter Bunny Left a Special Gift!
Take a photo of your baby with your pet in matching outfits.
Put baby in a carrot costume and visit the Easter Bunny for a fun photo.
Pictures are a perfect way to commemorate your baby's first Easter and capture special memories.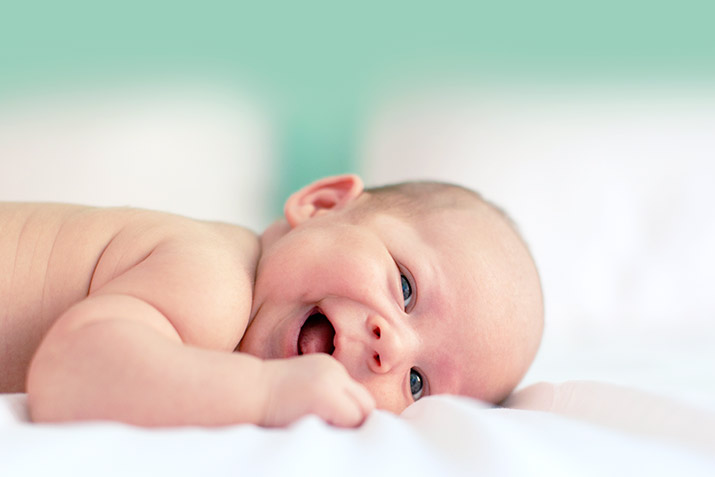 Start a new Easter tradition with your baby.
Begin an Easter tradition you can do every year as a family! Take a spring walk at your local park. Visit the Easter Bunny at the mall and take a family photo. Watch your city's local Easter parade—babies will love the bright colors and floats. Dye Easter eggs—even if baby can't join in on the activity, it's a perfect tradition to start early and continue as your child gets older.
Give a keepsake gift for a baby's first Easter.
Giving a special gift to your child is also a heartwarming way to celebrate a baby's first Easter, and every Easter after. A personalized storybook like My Snuggle Bunny includes the child's name a photo, and comes with a soft bunny to cuddle with on Easter morning. To soothe little ones at bedtime, Goodnight Little Me is a custom Easter gift that incorporates the baby's name throughout the story.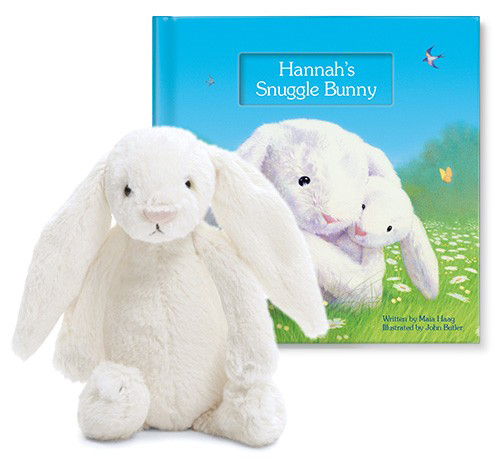 Put family notes inside eggs to mark important childhood milestones.
Like fortune cookies, these Easter eggs hold special surprise messages. Have friends and family write a loving note or wish on a small piece of paper and hide it inside a plastic egg. Label the eggs Baby's First Easter, My 5th Easter, My 10th Easter, and so on. When your child is older, he or she can open the plastic eggs and read the beautiful messages inside.
Plant flowers or start a new garden to commemorate a baby's first Easter.
Celebrate your baby's first Easter by planting a beautiful bunch of perennial flowers. The flowers are a lasting reminder of the occasion and will grow as your baby grows. If you love gardening, try planting a special garden for your baby. Add custom garden stones that feature your baby's name and birthday. Each year, you can add new bushes and flowers—and when your child is older, he or she can help plant and add to the garden.
Write letters to baby to open every Easter.
Write letters to your baby, starting with baby's first Easter. In the letter, express your abundant love for them; convey your hopes and dreams for their future; and convey special memories about their birth and first days. Write a letter to your child for every Easter following. When they are older, they can read the letters you wrote and have a special Easter keepsake to treasure.
Create a baby food Easter basket.
Although your baby is too young for chocolate, you'll still want the fun of creating an Easter basket. Make up a basket with a variety of different baby food and add some plastic eggs and fake grass for decoration. This also makes a fitting prop for Easter photo shoots at home!
Host a baby's first Easter brunch.
Invite family and friends for an Easter celebration to welcome the new baby. Feature spring foods and drink at your Easter brunch such as mimosas, frosted sugar cookies, chocolate eggs, quiche, a fruit tart, hard boiled eggs or deviled eggs, and honey-baked ham. Hang a garland in front of the brunch table that says, "Baby's First Easter" and create a cute table centerpiece with Easter photos of your baby. An Easter brunch with family is also a great way to help baby bond with relatives and hold your first party as new parents.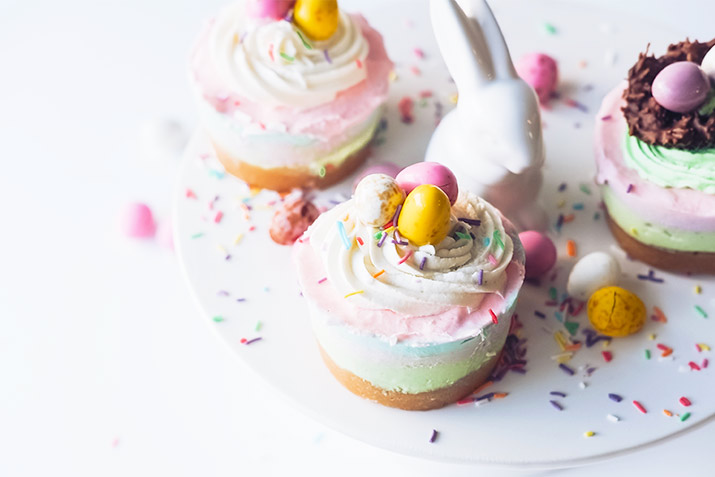 Make "Happy Easter" cards with your baby's footprints.
Try something new this Easter and DIY creative Easter cards you can mail out to friends and family. Dip your child's feet in orange paint, stamp them onto the front of each card, and draw green grass out of the top to look like carrots! Add the words "Happy Easter" and a special note to create a cute keepsake card.
Resources:
https://www.mom365.com/baby/baby-milestones/babys-first-easter
http://www.adorecherishlove.com/2015/04/easter-craft-ideas.html