8 Ways to Celebrate Hanukkah with Kids
Celebrate the eight days of Hanukkah with these eight family activities. In addition to lighting the menorah together, there are so many ways to plan a special Hanukkah with kids. These family Hanukkah ideas will bring light and joy to the holiday. Enjoy this time with your kids and make beautiful family memories.
8 Ways to Celebrate Hanukkah with Kids
Play the dreidel spinning game.
Dreidel is a Hanukkah game played with a spinning top numbered in Hebrew letters and chocolate gelt. Put your chocolate into the pot, spin the dreidel, and see if you wind up with all the chocolate coins! This fun Hanukkah tradition is perfect to play at home, or out and about at a coffee shop or mall.
Make latkes and Hanukkah cookies together.
No Hanukkah would be complete without delicious latkes and holiday cookies! Use a Star of David cookie cutter to make sugar cookies. Kids can frost and decorate their cookies and enjoy them for dessert. Cooking and baking as a family is one way to make special memories together at the holidays. Take a family baking photo and preserve your memories in a personalized children's book like Baking Hanukkah Cookies Together. This custom book for kids also includes the family members' names throughout the story and your favorite Hanukkah cookie recipe in the back!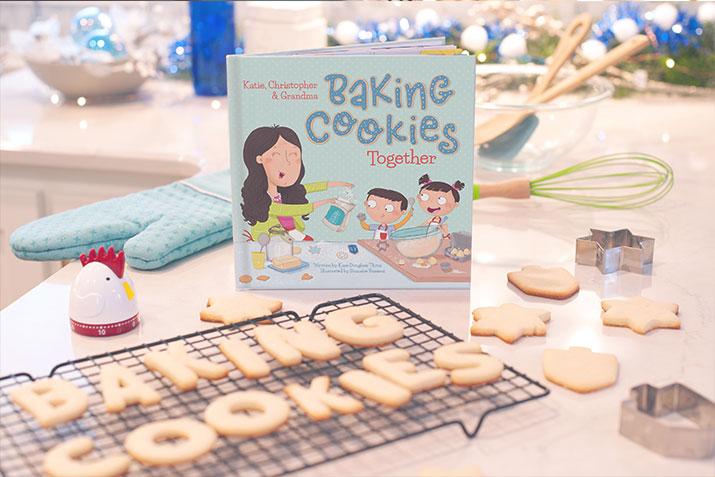 Create your own colorful menorah with this Hanukkah craft activity.
The whole family can participate in this Hanukkah menorah children's craft. Easy to make, this craft only needs popsicle sticks, markers, and paper. Color your popsicle sticks using markers, before you glue anything down. Then glue two popsicle stickers together horizontally, and two on top vertically. Glue nine sticks across, to be your menorah candle holders. Finally, cut flame shapes from paper and glue them to each stick. Kids can count the eight days of Hanukkah using their made-from-scratch menorah!
Have a Hanukkah song and dance party in your pajamas!
Hanukkah is called a "Festival of Lights," a time to celebrate with festive flair. So it's time to have a party! Sing popular Hanukkah songs and dance around the house in your favorite pajamas.
Do something kind for a neighbor.
Hanukkah is about miracles and gift giving. Donate your time to a neighbor and perform an act of kindness. Shovel their driveway, salt the road so it's easier to drive, or drop off a basket of Hanukkah cookies. By doing something kind for others, you are bringing light into someone else's life—symbolically honoring the miracle of light that is a special part of Hanukkah.
Share 8 things you love about each other.
Hanukkah is a joyous celebration of love and freedom, and a time to spend with loved ones. Spread love to your whole family by sharing eight things that you love about each other. Each night of Hanukkah provides an opportunity to reflect and connect. Kids will learn the value of kindness and spreading love at the holidays.
Share your Hanukkah family traditions with friends.
Invite some of your children's friends—including those of different religions—over to celebrate Hanukkah together. This is a great opportunity to introduce Hanukkah to others! Hold Hanukkah crafting sessions, make Hanukkah foods, and tell the story of Hanukkah. Share your light with others and brighten the world!
Make a family tree.
Hanukkah is a time to celebrate your family history and culture. Make your own family tree and teach your kids about their past. Talk to relatives and go through family photo albums. This meaningful Hanukkah activity teaches the importance of history and family journeys. Kids will love learning about their heritage.
Hanukkah is a celebration of religious freedom, love, and hope. Make this holiday especially meaningful with these eight creative ways to celebrate Hanukkah with kids.