Holiday Cookie Recipes for Kids
Create lasting family memories this holiday and bake a batch of Christmas cookies or Hanukkah cookies together! These holiday cookie recipes for kids are easy to make and fun for the whole family. Preserve your favorite family recipe inside the personalized book Baking Cookies Together (which also comes with a child's apron!) and create a perfect holiday keepsake.
Holiday Cookie Pizza
Kids love the delicious taste of cheesy pizza—so cookie pizza is even better! This holiday dessert for kids is easy to make and suits any holiday—just change the edible decorations and colors to suit the season! You'll need:
16 ½ ounce roll of refrigerated sugar cookie dough
1 cup semisweet chocolate pieces
½ cup peanut butter, melted
Candy topping: red and green or blue M&Ms, sprinkles, milk chocolate kisses, sugar candy beads, etc.
Cut the cookie dough into ¼-inch-thick strips. Press the cookie dough slices until they cover a greased 13-inch pizza pan. Bake at 350 degrees for 15-20 minutes (or until the dough is golden brown). The cookie is your pizza crust! Sprinkle the semisweet chocolate pieces across the warm crust, and spread once the chocolate has melted. Drizzle the melted peanut butter over the chocolate. Decorate the top with candy—switch up the candy colors for Christmas or Hanukkah! Cut into pizza slices and serve.
Sugar Cookie Ornaments
Adorn your holiday table with these ornament sugar cookies. They are fun to bake, and even more fun to decorate! You'll need:
Store-bought sugar cookie dough
2/3 cup all-purpose flour
Fruit roll-ups
Vanilla frosting
A 2-3/4" ornament cookie cutter (or a circle cookie cutter)
Knead the sugar cookie dough with 2/3 cup all-purpose flour. Roll the dough to 1/4-inch thick. Cut out ornament shapes with the cookie cutter and place on a cookie sheet, 2 inches apart. Bake at 350 degrees for 7-9 minutes (or until lightly brown around the edges).
Frost the cookies when they are cool to the touch. Cut strips from the fruit roll-ups and place strips across each cookie. Alternate strips with different colors. Use red and green for Christmas, and blue for Hanukkah. Kids will love eating these ornament cookies with a fruity twist!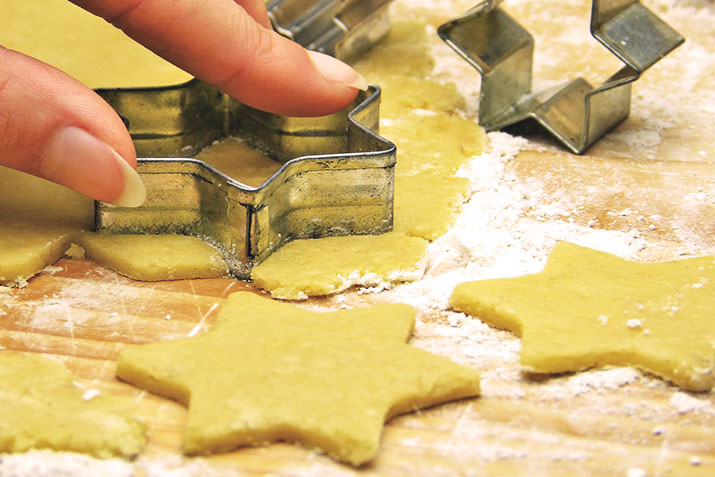 Reindeer or Hanukkah Star Snickerdoodles
These scrumptious cinnamon snickerdoodle cookies are easy for kids to help bake and make a festive holiday treat for Christmas or Hanukkah! Make your own Rudolph the Red-Nose Reindeer or a Hanukkah Star of David. You'll need:
1/2 cup butter
1 1/2 cups flour
1 cup sugar
1 egg
1/2 tsp vanilla
1/4 tsp baking soda
1/4 tsp cream of tartar
2 tbs sugar
1 tsp ground cinnamon
Mini pretzels
M&Ms
Star of David cookie cutter (or use a knife)
Using an electric mixer, beat the butter on medium-high for 30 seconds, then add half of the flour, the sugar, egg, vanilla, baking soda, and cream of tartar. Once mixed, add the rest of the flour and beat it all together.
In a small bowl, mix the sugar and cinnamon. Kids can help roll the dough into1-inch balls and roll them around in the mixture. Place on a cookie sheet, 2 inches apart, and bake at 375 degrees for 11 minutes (or until edges are lightly brown).
Decorate Christmas cookies like reindeer by putting two mini pretzels opposite each other at the top of the cookie—make sure to insert the pretzels into the cookie when still slightly warm. Add brown M&Ms for eyes and a red one for the nose. Use a Star of David cookie cutter to make Hanukkah cookies, and decorate with blue M&Ms.
Resources
https://www.parents.com/recipes/holidays/christmas/12-kid-friendly-christmas-cookies/
http://foodlets.com/2015/11/24/reindeer-snickerdoodles-simple-christmas-cookies-kids-can-make/
https://www.woojr.com/snickerdoodle-recipe-to-make-with-kids/
https://www.bhg.com/recipe/bars/holiday-cookie-pizza/