Home
 >  Snuggle Bunny Cupcakes!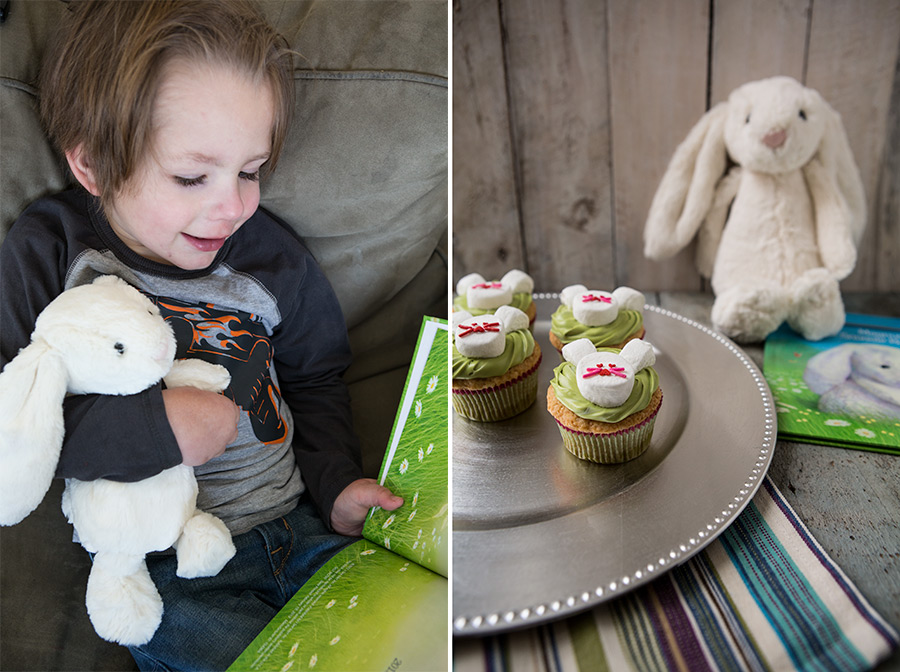 3/4/13- Snuggle Bunny Cupcakes!
Slowly the snow melts into puddles and then rivers that rush down the black asphalt and through the grates that carry it away. The sun seems to be higher in the sky, brighter than it was just a few weeks ago, and the newly uncovered grass is hinting towards green with each passing day. If you watch, you can nearly see the tulip leaves popping up from the dirt right before your eyes, their appearance is so sudden and quick. Their stiff green leaves unfurl into the warming air, and slowly but surely a small bud appears in their center, the outside petals hinting at the colors hidden within.

Easter is always a fun holiday. Not only does it come at the end of winter as spring is promising flowers and green grass, but it is free from the pressures of perfection. All you need is a good meal with family, a few brightly colored eggs, and perhaps the promise of a soft bunny friend to make the day complete. Whether you get together with extended family or spend the afternoon at home, the day is bright with the promise of sunny summer days to come.

Rather than fill my children's Easter baskets every year with loads of candy and sweets, I try to find a single small gift for them to enjoy that will be treasured. The personalized My Snuggle Bunny storybook and bunny plush is the perfect way to do this. It is just the right kind of gift that will be read again and again. The fun-loving story comes complete with counting exercises, and inside the pictures your child will delight in searching for their name.

My four-year-old was thrilled with the super soft, snuggly bunny, but he was even more excited to find his name between the pages of his very own picture book. Of course, the icing on his special day was when we made and decorated cupcakes that matched his new bunnies and then shared them with all his siblings.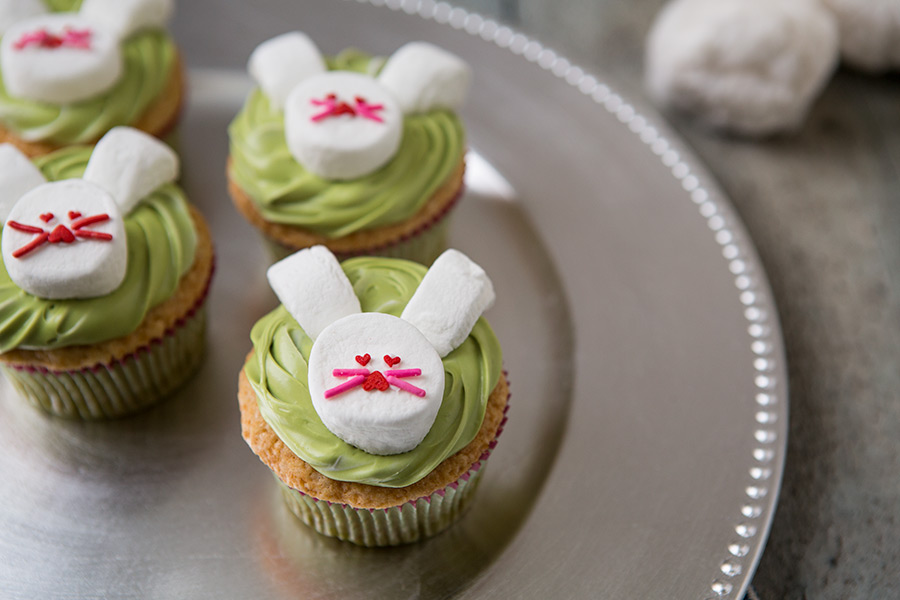 You can use any variety of cupcake and frosting for this recipe. If you are a chocolate cupcake eater only, chocolate will work just fine beneath a basic buttercream. Strawberry lovers can even give a pink-hued cupcake a go. The design on top is simple enough that it doesn't require a ton of decorating skill, and a pair of tweezers can make placing the individual heart-shaped sprinkles easier if necessary. For smaller children, attach the face pieces ahead of time, and let them spread green frosting and plop the marshmallows into place.

Marshmallow Snuggle Bunny Cupcakes

12 cupcakes (like these olive oil cakes)
2 cups vanilla buttercream
Yellow and blue natural food dye (like India Tree or Chocolate Craft)
12 jumbo marshmallows
Chocolate or Pink vermicelli sprinkles
12 medium red heart sprinkles*
24 small red heart sprinkles*

Set aside 1 tablespoon of frosting. Using the food dye, add 1-2 drops of both blue and yellow dye and mix into the frosting to create a grass-tinted green. Frost all 12 cupcakes using the green frosting.

Using a kitchen shears, cut the jumbo marshmallows in half to create two equal rounds. Cut one of the rounds in half again to create two half circles to make the ears. On the circle attach two mini hearts for eyes, an upside-down medium heart for the nose and mouth of the bunny, and then two vermicelli on either side for whiskers.

Place the bunny heads and ears on top of freshly frosted cupcakes. Serve when ready to eat. Makes 12 bunny cupcakes.

*Both heart shapes are available in the Wilton Sweetheart 6-cell Sprinkles