7 Birthday Party Games for Kids
Throw a fun-filled birthday party for your child with these birthday party games for kids! Whether you are planning for a 1st birthday, a toddler birthday party, or a 6th birthday, these birthday party ideas will entertain the party guests throughout the festivities.
Your child's birthday only comes once a year, so now is the perfect time to plan an event full of joy and laughter. Once you have chosen the perfect birthday party venue and party decorations, it's time to line up a series of party games that the kids will love. Here are seven kids' birthday party game ideas with easy set-up and simple instructions. Make your child's birthday one to remember!
7 Birthday Party Games for Kids
Trivia Game for the Birthday Boy or Birthday Girl
This trivia birthday party game for kids is a perfect way to kick off the party and get to know the birthday boy or girl! Ask your child to fill out a series of prompts such as "My favorite color is…," "My favorite food is…," "I like to…" Then ask the party guests to guess what the answers will be. The kids who get the most answers correct receive a special prize! You can also use the personalized storybook All About Me at My Age to start this game. With this custom birthday book, your child fills in the blanks about their likes, wishes, and hopes for the future. A perfect birthday gift for kids, this personalized children's storybook is the perfect way to celebrate your child's year.
Birthday Party Prize Walk
This party game is like a cake walk, but instead of cake the kids win special prizes according to your birthday theme. If you are holding a pirate birthday party, kids can win a pirate bandana, chocolate gold coins, costume jewelry, or a personalized storybook such as My Very Own Pirate Tale (which can also come with a bandana and pirate stickers). For a sports birthday party, offer sport-themed prizes like a foam football or basketball. The rules of the game are simple: Kids must walk in a circle as music plays and stop on the nearest numbered square when the music stops. The parent randomly draws a number, and the child on that number receives the prize.
Balloon Pop Til' You Drop Birthday Party Game for Kids
Fill balloons with small prizes inside. Give each child their own balloon to pop. But the challenge? You can't pop the balloon with your hands! Kids will love rolling around trying to reveal the prize inside.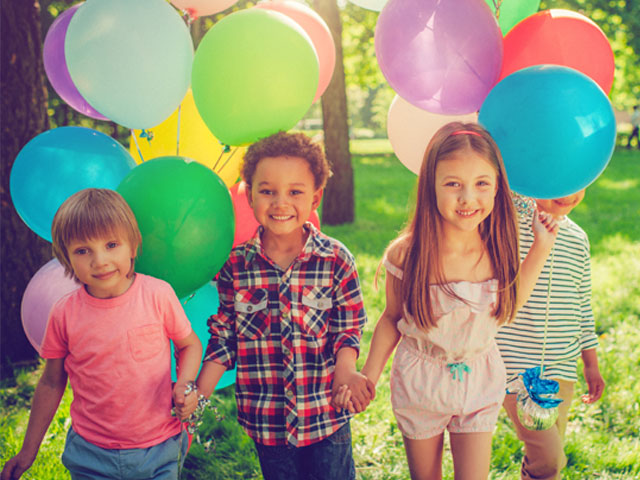 Glow-in-the-Dark Ring Toss
Set up this birthday party game inside in a dark room or hold it outdoors at dusk. For this game, use a construction cone, a tall can or a stake and wrap lights around it. Then have kids toss glow stick necklaces (instead of rings) and see if they can get the ring around the object. The glow-in-the-dark element of this party game makes it especially exciting for little kids!
Wacky Dance Dice Roll
Roll the dice to see which wacky dance you must perform! Depending on the number rolled, kids will wriggle and shake a different kind of animal dance, like the "slithery snake dance", the "crazy chicken dance", the "dinosaur stomp dance", the "fire-breathing dragon flight dance" or the "horse trot dance". This unique birthday party idea encourages kids to release their creativity and expend their energy after their sugar-high from birthday cake!
Donut Drop the Ball Party Game
Kids are always putting things into their mouths, so why not turn it into a party game? Place a bowls of donuts on a table at the other side of the room. With their hands behind their backs, kids must race to pick up each donut with only their mouth and run back to drop it into their bucket. If they drop the donut, they are out of the game! The first person to put all their donuts into the bucket wins. Turn this into a relay race and put kids into teams, for a larger children's birthday party. This birthday party game is perfect for toddlers who love sweets.
Blindfold Musical Chairs
If you've ever seen the "Game of Games" game show from Ellen DeGeneres, then you'll already know and love this party game! With blindfolds on, kids will show off their dance moves to music. Just before you turn off the music, hide a few chairs somewhere in the room. When the music stops, kids must search for the chairs and sit down first! Continue with multiple rounds until there's only one chair and one winner. This indoor birthday party game gets kids moving and grooving!
You don't need a birthday party planner when you can host your own fun party games! These birthday game ideas are exciting and creative ways to keep kids entertained at your child's party. All you need is a birthday cake, some decorations, and your child's birthday party extravaganza is ready!
Resources:
https://spaceshipsandlaserbeams.com/blog/party-games/50-best-party-games-for-kids